Jim's are your pest control Gold Coast experts, and you can trust us to help you with your pest problem. Our local technicians are experienced, fully trained, and insured.
For fast service, call 131 546 and speak to our friendly staff – your local technician will contact you soon after.
Why Jim's Pest Control Gold Coast?
Locals on the Gold Coast know they can trust Jim's Pest Control to keep their home or business protected from the effects of pests. Your local pest control technician is local to the famous Gold Coast area, and this knowledge of the area allows us to service you quickly and reliably.
Some of the reasons customers can count on us:
Friendly service: Pest infestations are never a great experience, but your Jim's technician will go out of the way to ensure your experience only goes up from here.
Fully trained: Your technician is are up-to-date and extensively trained on the latest pest control and management techniques, enabling them to exterminate pests safely and effectively.
Guaranteed results: We stand by the famous Jim's Service Guarantee – If the treatment doesn't work, we'll fix it free of charge.
From ants to wasps, we'll make sure the pests stay away!
Jim's knows what to do with suspected mice in the kitchen or hungry silverfish in your wardrobe. Your local Gold Coast pest exterminator will always provide an approximate quote and inspect your site, followed by a comprehensive treatment backed by warranty.
We provide extermination and/or removal services for:
Termites
Ants
Bed bugs
Birds
Cockroaches
Fleas
Rats and mice
Silverfish
Spiders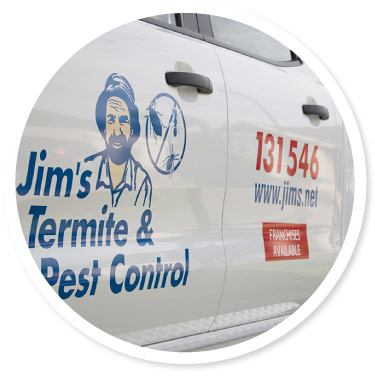 Termite control – inspection, treatment and prevention
The Gold Coast area of Queensland is usually a warm and humid climate which places your property at serious risk of a termite infestation. Unfortunately, once you have seen signs of termite activity, the damage has already occurred. That's why it's essential to get a termite inspection every year.
If you notice damaged woodwork or swarms of insects outside, you should contact us for an inspection straight away. The earlier we can find the termites, the better protected your home will be. If we discover them, we'll determine the extent of the damage and provide termite treatment with baits and pesticide barriers to stop the infestation from spreading and creating more damage.
Suppose you have already had termites or are in a high-risk area. In that case, we recommend termite repellent barriers be placed around the building to prevent them from returning.
Do you have a mouse in your house?
Mice can cause significant damage in your Gold Coast home of commercial premises by gnawing through wood, doors and electrical cables, and spoiling food by eating into food containers and leaving droppings.
Unfortunately, they can also carry diseases and parasites that can be passed to humans. You may have a problem if you notice small dark droppings or greasy smear marks on your walls or even hear them scratching at night.
Fortunately, we're only a call away. We use a variety of treatments like traps, baits and tracking powders so we can find the source. We'll also advise you on how to reduce future problems, so they don't return. Getting rid of the mouse in your house is simple with Jim's.