Jim's are your pest control Albany Creek experts. Our local technicians are experienced, fully trained, and insured. You can trust the Jim's name to help you with any pest problem.
We're here for you when you need us. Simply call 131 546 and our friendly staff will arrange for your local technician to contact you.
With a quiet, community feel, and nearby national parks and semi-rural properties, Albany Creek is a favourite among families and retirees alike. Many of the residents here are long-time locals, while others have moved for the tree change – escaping the city hustle while still keeping shops and bigger suburbs within easy reach.
While you can come to Albany Creek to avoid the city life, it's not so easy to avoid a few types of creepy crawlies that like the area as well. Termites, spiders, cockroaches and rodents are all frequently making themselves a nuisance, or even causing significant damage.
Luckily, we're here to manage and remove these pests from your property so you can enjoy your laid back lifestyle without them.
Jim's Pest Control Albany Creek – great service, great results
Albany Creek residents know they can count on Jim's to handle any pest control issue quickly and effectively. With high level training and expertise, we place an emphasis on honest advice and reliable service, while making sure our customers are always left with peace of mind.
While we pride ourselves on offering high value for money, we understand that people have different budgets. That's why when we come and inspect your property we will present you with a range of treatment and pest control options so you have something to fit your situation and requirements.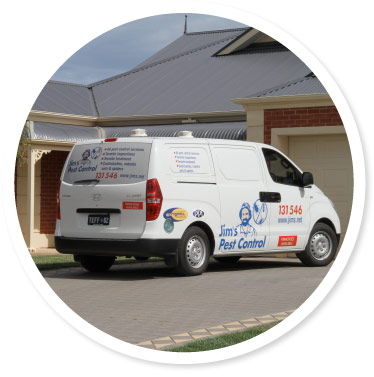 Termite inspection and prevention
Did you know termites can cause thousands of dollars of damage to your home? And once you realise they're there, it's usually far too late.
At Jim's Pest Control Albany Creek, we can't stress enough the importance of having an annual termite inspection. We use a range of advanced inspection techniques including sounding, moisture meters, borescopes and thermal imaging.
If we think your home is vulnerable to termites, we can also put in place some preventative measures. These include, physical barriers made from metal or crushed rock, in-soil pesticide barriers, and pesticide in plastic barriers.
Steve Fields is the Albany Creek area's local pest control expert, and he has over 15 years experience to his name. After spending a decade working for pest control organisations, including the termite division of Brisbane City Council, Steve decided it was time strike out in his own business, so he could make sure he was giving home and business owners the best possible service.
Steve has owned a Jim's franchise since 2013, where he gets to rely on the organisation's structure, guidance and support so he can focus all his energies into getting results for his customers.
While he has experience with all pests, he is particularly seasoned in controlling termites, and once treated them from a boat at Shorncliffe Pier!