Are you looking for a pest control business for sale? Are you ready to own a business that will give you the freedom to work your own hours and enable you to realise your true earning potential? We have a franchise for sale near you NOW!
Pest Control Business for Sale – Everything You Need To Succeed
We take pride in the training and support we offer all our franchisees. You will have at your fingertips, all the assistance and any advice you need to kick start your business correctly. Furthermore, we have a dedicated team taking care of your advertising and customer enquiries and you will have access to a business mentor, once you're up and running. The Jim's 'trusted, known and preferred' brand means your business will be recognised by customers.
Key benefits of joining our team…
Powerful Brand and professional image
Work availability guarantee
Work where you want
Work when you want
Unrestricted growth potential
Fixed low monthly fees
Training and support
Lead Generation
Advanced technology and systems
Centralised administration and business support
Cutting Edge Marketing
Supportive franchisee network
National buying power
Jim's Termite and Pest Control in the everyday World
As a Jim's Termite and Pest Control franchisee you are able to offer your customers all types of pest control services. This includes domestic home treatments right through to treatments for commercial business premises. Just some of the many treatments you will be able to perform are:
Termite Inspections and Treatments
General Pest Control Services
Pre-construction Termite Barriers
Bird Control
Possum Control
The whole Jim's Group are a widely known brand. They are known for offering a quality service, and for being professionals business people who are trustworthy, honest and committed to providing the best care and service to their customers. Franchisee owners are also considered as an expert within their industry, full of helpful information and advice. Naturally, this credibility and respect means that as a Jim's Termite and Pest Control franchise owner, you are trusted with the everyday people needing assistance with their pest problems. With this in mind, you can therefore charge rates which would never be available to an independent termite and pest control business owner.
We find that our Jim's Termite and Pest Control franchises offer business opportunities for people from all walks of life. There is a clear correlation between the amount of income you earn and the amount of effort you put into building your business. If you are inclined to build your business to the next level, there is nothing stopping you from employing people so they can focus on sales. You have the complete flexibility when it comes to building your business. You can choose to focus on one or two pest control services or offer the entire pest control range. It doesn't stop there, you can also choose to specialise only in domestic or commercial or enjoy a balance of the two income streams. If you are already in the pest control industry and looking for a trusted and known brand to back the growth of your business, you are the perfect candidate for a Jim's Termite and Pest Control franchise owner. But remember, if you don't already have experienced in termite and pest control, we'll teach you everything you need to know.
Are you ready to take the next step to own your very own Termite and Pest Control business with the backing of a trusted and know brand? Then contact Jim's Termite Pest Control and request a non-obligation Franchise Information Package. This pack will provide you with all the detailed information you need and an application form. Of course, you can call the Jim's Termite Pest Control Head Office 131 546 if you have any further questions, or complete the form and we'll get back to you asap.
Jim's Termite and Pest Control offers general pest control for all for homeowners and commercial businesses. As well as these extensive services, we also offer Termite and Timber Pest Management Services. As you become more familiar and fully trained in the various areas, you can then offer these additional services to your potential customers and further maximise your income.
Training for Pest Control License
Part of your preparation as a Jim's Termite and Pest Control business owner is tailored and very specific training. This includes general pest control services as well as timber pests. When you complete your training, you will come out with a General Pest Control License so you can start earning money as soon as you get your first customer!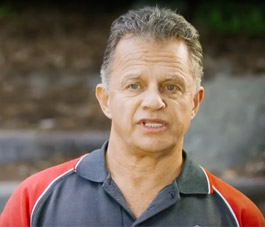 I have been in Pest Control for over 5 years now. Before I joined Jim's Termite and Pest Control, three years ago I had my own little business. The reason I left my own business and purchased a Jim's franchise was because the reputation from the Jim's Group and the Jim's brand is well known to, and trusted by 97% of Australians.
Being part of the Jim's Group is certainly the key to our success. We get moral and technical support, and a great deal of guidance. It took years off the learning curve and the development growth within my business. Rest assured I know our training is always on the cutting edge of the latest techniques, treatments and methods – critical to running a successful Pest Control business.