You may find a reference to an end of lease pest control program in the special terms of your Tenancy Agreement.
In most cases tenants are required to take care of general pests and fleas for End of Lease Pest Control, particularly when animals have been allowed to live on the property. Even if the animals have been kept outside or have only been on the premises for a short stay, you are still required to carry out a Pest Control treatment.
We recommend you carefully check the fine print of your Rental Agreement for specific reference to flea Control, or Fleas & General Pest Control.
Unwanted Pests at the end of your tenancy can:
Make it difficult to get your bond back. Avoid costly tribunals with our guaranteed service.
Make it unpleasant for the next tenant.
Spread disease via discarded pest excrement, casings and parasites carried by rodents
Need End of Lease Pest Control? We're your one-stop shop – ask about our other services including cleaning and garden services! Get your bond back. Call Now – 131 546
Set up a guaranteed program to control the pests for your end of lease treatment program.
We will inspect the property to ensure that the correct control program is used and report our findings. Common household pests include:
Ants
Cockroaches
Fleas
Spiders
Silverfish
Spiders
Rodents (rats & mice)
As pests have their own characteristics they need to be treated differently:
We may apply a special gel to cupboards.
We may apply a fine insecticidal powder to your roof void, subfloor and in your wall cavities.
We may apply a special surface spray to the internal and external perimeter of the property.
We may apply an Insect Growth Regulator to control pest infestations
Your local Jim's Pest Control franchisee is security screened, fully trained, licensed and carries comprehensive insurance ensuring your peace of mind knowing that the job has been done correctly according to your end of lease pest control obligations.
Ensure the pest control treatment is the last thing that is done after cleaning
Quote our "end of lease" service code so we can send a Jim's Franchisee who knows your local area and specialises in the specific pest control treatments as outlined in your tenancy agreement.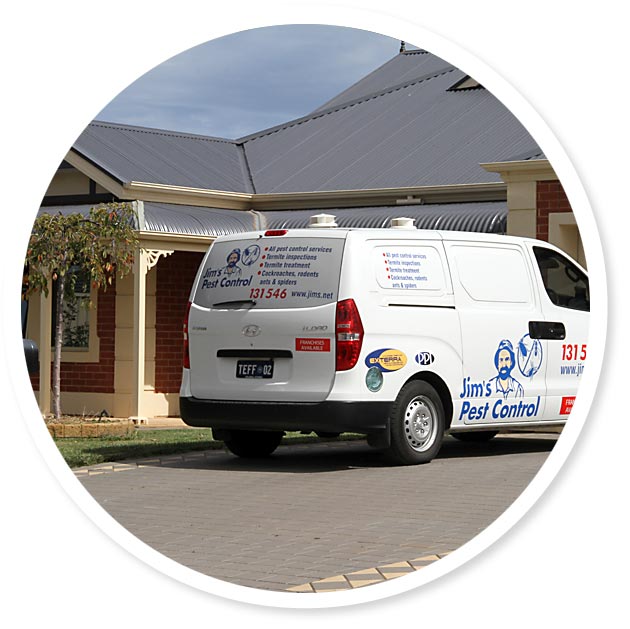 Responsibilities?
If you're not sure of your pest control responsibilities, give us a call on 131 546 for assistance. It's important to get it right the first time, as it will help save you money in the long run!
Your local Jim's Pest Control franchisee can offer you a complete interior and exterior tailored service in accordance with your lease terms. We can work in with your moving timeframe and be there when you need us.