Jim's are your pest control Brighton experts. Our local technicians are experienced, fully trained, and insured, and you can trust the Jim's name to help you with any pest problem.
For fast service, call 131 546 and speak to our friendly staff – your local Brighton technician will contact you soon after.
Why Jim's Pest Control Brighton?
Brighton locals know they can trust Jim's Pest Control Brighton to keep their home or business clean, hygienic, and free from irritating pests. Backed by Jim's comprehensive training and hands-on experience, your technician is fast, effective and reliable.
Some of the reasons customers trust us:
Locally owned: When you call Jim's, you're getting far more than an employee. You're being serviced by a local small business owner with extensive knowledge of pests in the Brighton region.
Fully trained: Our technicians stay current with the very best in effective pest control and management – enabling us to remove them quickly, effectively and keep chemicals to a minimum.
Guaranteed results: We stand by the famous Jim's Service Guarantee – If the treatment doesn't work, we'll fix it free of charge.
Worried about termites? We'll give you peace of mind
Termites are much more common and destructive than you might think. These crafty critters can cause hundreds of thousands of dollars worth of damage to your home, and your insurance rarely covers it.
At Jim's Pest Control Brighton, we follow CSIRO guidelines – recommending a termite inspection at least once a year to catch an infestation before it causes extensive damage.
Our termite treatment involves aggressive solutions to get on top of the termites fast and prevent further damage to your home.
Call 131 546 to book your termite inspection today.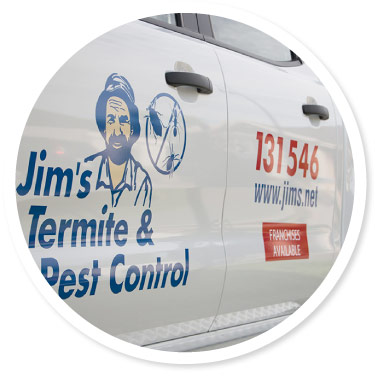 Regular pest inspections will save you time and money
Routine pest inspections are the best way to protect your home or business from potential pest problems or damage.
Don't wait until you have an outbreak; simply book a time that suits you and once we've inspected your property we'll provide a comprehensive report – allowing you to make an informed decision.
Buying a new property? Jim's can inspect the property before you buy so there are no scary surprises later. We'll also provide a quote for any recommended preventative treatments to protect your investment.
A pest inspection now could save you thousands later on, so book yours with Jim's Pest Control Brighton today – 131 546.
Possums calling your place home?
Possums are a protected native animal, so they it's illegal to remove them without a licence.
Unfortunately, the warmth and shelter of your roof may make them decide to call it home for the night. . Even if you can put up with the noise, it's likely they're also chewing through your electrical wiring and spreading waste in your roof, which is why it's best to act as soon as you notice them.
Luckily, possum removal is humane and straightforward. Once we've removed the possum, we'll also block up access points to your roof to prevent them returning and ensure you get a great night's sleep. Give us a call to help find your possum a new home – 131 546.
Rodents are most attracted to buildings in the Brighton area in the cooler months – seeking out food, warmth, and shelter. Rats, like mice, can cause expensive damage by chewing walls, furniture and even electrical cables, and they are also carriers for disease and other pests like fleas.
If you hear noises in the walls at night or notice greasy rub marks on your walls, simply give us a call to arrange a thorough rat inspection. If we find them, we'll plan out a pest control solution using traps, baits and tracking powders. We'll also help you with preventative measures to ensure the rats don't return.
Mice, like rats also cause significant damage by gnawing through wood, electrical cables and spoil food with their droppings. They also carry diseases and parasites that can be passed onto humans.
Signs of mice in the building can include squeaking or scratching at night, burrows next to your building and visible small droppings. Jim's will undertake an inspection and if we find mice we'll use a variety of treatments such as baits and traps. We'll also advise you on their entry points to your home so you can stop the mice from returning.
How to discourage birds from your property
We all love the sound of birds singing happily in the trees, but when they arrive in large numbers they aren't so pleasant. They can cause damage to your property, their droppings and feathers can create slipping hazards, and they even pass on diseases to humans.
By booking a pest inspection with Jim's Brighton, we'll assess the building and surrounding areas, and find long-term solutions for your bird problem. This may include netting, spikes or audio devices to discourage them. We can even bird-proof your solar panels.
Wasp control can save you or your family from a painful sting. If you're noticing more wasps around your property than usual, it's a good idea to have a professional pest control technician attend to locate the nest.
Wasps are extremely aggressive, and killing one will cause the entire colony to swarm, so never try to remove the nest yourself. Call Jim's and have your local Brighton exterminator remove the wasps without fuss. We'll leave your property and family safe and wasp-free.
Call Jim's for all your pest problems
If you've seen a cockroach in your kitchen or spiders in your stairwells, call Jim's Pest Control Brighton to help. We'll provide a quote and inspection before commencing treatment so you know exactly what to expect, and we can tailor the treatments to your budget.
Each treatment is backed by warranty and the famous Jim's Guarantee – if it doesn't work, we'll fix it free of charge.
We provide Brighton pest control services for all other pests, including:
Ants – stopping an infestation in its tracks
Bed bugs – using advanced methods to exterminate these challenging pests
Cockroaches – removing all cockroaches, not just those you see
Fleas – getting rid of them for good
Silverfish – exterminating them before they damage your clothes, books and belongings
Spiders – eradicating these creepy crawlies and giving you peace of mind