When you're concerned about pests or termites in your home or business, we're your local pest control Sunshine Coast QLD experts. We're nationally accredited and locally owned and operated, so you can be sure that your technician cares as much about your pest problems as you do.
Simply call 131 546 and your local technician will be in touch shortly, usually within an hour of calling.
What makes Jim's Pest Control Sunshine Coast QLD different?
Jim's Termite and Pest Control was established in 2010, quickly gaining a reputation for our professional service. Because we're part of the Jim's family, we're leaders in customer service and affordability in the pest control industry.
We offer a full range of services and treatments, from pest elimination to prevention and management.
Our technicians are fully trained in the latest pest control and management and have access to state-of-the-art tools and technology.
Because we're under the Jim's umbrella, we're able to offer the best service at lower prices, and we pass our lower costs on to you.
All of this is backed by the Jim's service guarantee. If the treatment does not work, we will come back to fix the problem.
All pests in all situations
While the Sunshine Coast is a great place to live and work, the warm weather also attracts plenty of pests, from rodents, to cockroaches, to termites. We know that every pest issue is slightly different, so we offer a wide range of services and treatments for homes and businesses. No matter your pest concern, we are here to help.
Annual inspections: Our technicians agree the best way to prevent pest problems is to have regular inspections. We offer thorough inspections for termites and timber pests, and other pests as needed.
Emergencies: If you have a pest emergency, give us a call and we will get back to you quickly. Along with our call centre, we have 24/7 online queries and the technician closest to you will respond as soon as they can (usually within the hour).
Commercial pest control: Jim's Pest Control Sunshine Coast can take care of your pest control needs for your business, office or school, from one-off treatments to serviced contracts. We tailor our services to suit your specific commercial needs.
Pest control and prevention: We provide a range of preventative services and treatments for your business or residence. From when you're in the process of construction to your pre-existing property, we have you covered.
Flexible appointments: At Jim's Pest Control Sunshine Coast, we know that your time is valuable. Life isn't always as simple as nine to five, which is why we come when it suits you.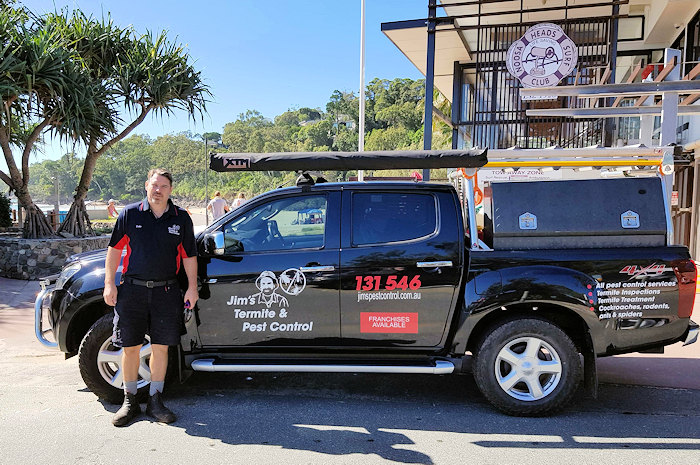 Possum removal Sunshine Coast QLD
Pests can be frustrating, unhygienic and even hazardous, and our technicians know that better than anyone. No matter your pest issues, we have the knowledge, training, and tools to find a solution that suits you. We are committed to offering the best customer service we possibly can, which means when you need us, we'll be there ASAP. When you've got a pest problem, give Jim's Pest Control Sunshine Coast a call on 131 546.
We're here to help with all of your pest problems
We are your possum removal Sunshine Coast experts. While possums are cute, they are also wild animals and are protected under Australian law. If you attempt to remove them yourself, you may harm either the possums or yourself, so best to leave it to the professionals.
If you're experiencing problems with possums in your home or business, call your Jim's tech on 131 546 and your closest technician will be in touch shortly, usually in less than an hour.
Possum removal Sunshine Coast – What's the big deal?
Possums are what are known as semi-arboreal marsupials, which means they are used to living in trees. While their preferred habitat is the warm and dry hollow of a tree, when that is unavailable your roof is often the next best thing. They are also nocturnal, meaning their most active hours are when we're asleep. When you hear a bump in the night, don't be surprised if it's a brush tail possum or two running around above your ceiling.
Possums may be cute, but having any kind of animal in your roof risks harm to both you and the animal. They can chew through electric wiring, attack you or your pets, and damage your insulation.
When we're called about possum removal, it often turns out to be rats. If you have possums, you will hear a thudding sound in your ceiling, and possibly hissing. If you're hearing a pitter-patter, it's more likely to be rats.
How do we deal with them?
At Jim's Pest Control Sunshine Coast, we are experts in dealing with possum problems. Here's how we go about removing them:
We perform a thorough inspection to determine how the animals are getting in and out of your roof.
We will work with you to safely and humanely capture the possums. When caged, possums can often get panicked, but our technicians know how to keep the animals calm while we block any points of re-entry.
Australian law states that possums must be released within 25 meters of their capture site. Obviously, this risks the animal simply returning to your roof, so we seal the points of entry to your roof before releasing them to stop them from getting back in.
After removal, we will block any entrance to your roof. Possums are tenacious, however, and may find a way into your roof again. Here's how to make sure they can't come back:
The most common way they gain access to your roof is through nearby trees. Remove any branches that may hang over your roof to prevent them from taking up residence in your ceiling.
If your roof is poorly maintained, they are more likely to return. Check regularly for gaps or broken tiles that may have appeared to make it more difficult for them. Also check after storms or rough weather, as your tiles may have shifted.
Regular pest inspections are the best means of protecting your property from possums, as well as any other pests you may encounter. Call us at 131 546, and your local technician will get back to you fast to set up an appointment.
Flea extermination Sunshine Coast QLD
When you're having flea problems, we are your local flea extermination Sunshine Coast experts. Our homes are the perfect conditions for these critters to thrive, and our dogs and cats are their perfect hosts. We know the trouble that fleas can cause to your pets and family, and our technicians have the techniques and tools to get rid of them. Just give us a call on 131 546, and one of our technicians will get back to you, usually within the hour.
Flea extermination Sunshine Coast – why is it important?
If you've ever had a dog or cat, you've likely come into contact with fleas at some point. They are tiny parasitic insects whose bites can cause pain and itching. It's common knowledge that they are an annoyance, but fleas can harm the health of not just your pets, but of you and your family.
Some of the reasons fleas are a bigger problem than you think:
Disease spreaders: While rats tend to get the blame for the Black Death, it was actually fleas who spread the disease from rats to humans. They can spread all manner of illnesses and even other parasites to our pets and to us, including tapeworms and typhus.
Painful sores: Fleas rely on blood to sustain themselves. To get that blood, they will bite you or your pet, and inject anti-coagulant saliva that will keep their meal flowing until they are full. This creates a painful, itchy, red raised sore with a bite mark in the middle. Some people are allergic to this bite, which can cause further complications.
Rapid breeders: Over their month-long lifecycle, a typical female flea can lay up to 100 eggs. This means that, from a few fleas landing on you or your pets, you can have a massive infestation within a few weeks.
End of Lease Flea Treatments for tenants
If you're renting and have dogs or cats, you may find your Tenancy Agreement requires you to get a flea treatment at the end of your lease. Moving out without a flea treatment can spread disease, make it difficult to get your band back, and cause you to breach the terms of your Agreement.
Jim's Pest Control are specialists in End of Lease Flea Treatments and will make sure fleas are fully eradicated from the property so you can have confidence you're complying with your Agreement.
Jim's Pest Control Sunshine Coast's technicians are highly experienced in End Of Lease Flea Treatments and flea extermination.
We perform a thorough inspection to ensure the safety of your family, pets, and property before we start.
We offer a variety of formulations to suit your needs. Safety is always our main priority when it comes to pest exterminations, and fleas are no exception. We will target various areas, depending on where the fleas are nesting, including outdoor settings.
Our technicians use only the safest pesticides available, recommending an insect growth regulator. This interrupts the lifecycle of the flea, rendering unable to breed. They are among the products safest for you and your pets.
How you can stop fleas from becoming an issue
It's best to stop the problem before it has a chance to get out of hand. There are many actions you can take to prevent a flea infestation:
Take your pets for regular flea checks. Ask your local Sunshine Coast vet for treatment tips and recommendations.
Keep all bedding clean. Washing it in hot water is usually enough to ensure a flea-free environment. This includes any pet bedding.
General cleanliness and hygiene are one of the more effective ways to make sure you remain an unfit host for fleas. Keep hard surfaces clean, and dispose of vacuum contents safely and securely.
Our technicians recommend regular inspections as the best way to ensure your pest problems are taken care of before they get out of hand. Call 131 546, and a technician will get back to you to make an appointment.
Termite treatment Sunshine Coast QLD
Having trouble with termites? We are your termite treatment Sunshine Coast experts. Termites cause millions of dollars of damage to Australian homes each year, and it's usually not covered by home insurance, so it's essential to get onto any potential termite problems straight away.
Your local Sunshine Coast technicians, Dale and Miguel, are experienced and trained in the latest termite detection and control techniques, and able to find the best way to eliminate your termite problems. Just call 131 546, and one of them will be in touch with you as soon as possible.
The leading name in termite treatment Sunshine Coast QLD
Jim's Pest Control Sunshine Coast's technicians use a variety of termite detection tools in order to locate your termite problem. This allows us to tailor the treatment to your specific needs.
We use the Termatrac T3i to detect your termites. This is the latest in termite tracking technology and can detect termites both inside and behind your walls, ceiling, and roof areas – all without causing any damage to your property.
This, coupled with thermal and infrared tracking, allows us to pinpoint your problem areas and the source of the termite problem.
After a thorough inspection, we will provide you with a report detailing our findings and recommended treatments.
Advanced termite protection
There are several different termite treatment options that work on exterminating them in different ways. We'll help you decide the right treatment for you depending on your situation and budget:
Termidor: Termidor is widely accepted as the standard in termite extermination. Its unique formula is undetectable to termites, allowing them to consume and spread the treatment throughout their colony, instead of avoiding treated areas. This results in long-lasting residual termite protection and eliminating your termite problem fast. Termidor also offers the Termidor Assurance Warranty, covering your home for structural damage to a value of up to $2 million.
Ultrathor: This acts on the nervous system of the termites, killing fast and creating a residual barrier to stop your home from becoming a termite target. Ultrathor are so sure of their product that they offer a $100,000 Termite Performance Warranty.
Sentricon AlwaysActive: Combining the benefits of a bait system with a chemical barrier, Sentricon AlwaysActive is quite different from previously mentioned termite treatments. Installed discreetly around your home in feeding hot-spots, this treatment first attracts colony workers, and then interrupts their life-cycle, preventing them from moulting. When termites do not moult regularly, they die. Without workers, the colony quickly collapses, leaving you with a termite-free property.
We will eliminate your termite problem
No matter your termite problem, Jim's Pest Control Sunshine Coast has you covered. Our technicians recommend annual termite inspections to be certain that your termite problem is detected early, or that your termites haven't returned after treatment. If you're worried about termites, it's important to act quickly. Simply call 131 546 and your local technician will be in contact with you shortly to make an appointment.
Termite inspection Sunshine Coast QLD
Suspicious that you may have termites? Worried about structural damage to your property? Jim's termite inspection Sunshine Coast offers the latest termite detection services. Give us a call on 131 546, and a technician will be with you shortly to give you an obligation-free termite inspection quote.
Why get termite inspection on the Sunshine Coast?
Termites, also known as white ants, are among the greatest causes of structural damage in Australia, causing millions in damage each year.
The CSIRO estimates that one in three houses in Australia are currently experiencing some kind of termite activity. When we look at the lifetime of a house, two in three houses will be likely be host to white ants.
Your property has an 80% chance of being located within 25 metres of a termite colony, increasing the likelihood of a termite infestation within your property's lifetime.
Due to warmer climates, buildings in the Sunshine Coast are much more likely to become infested with termites. They love hot, humid climates, and will seek your home as a feeding ground.
Your property is most likely not covered for structural damage caused by termites. Regular inspections are the best way to make sure you're covered in the event of a termite inspection. It's far easier and cheaper to get rid of the termites than it is to repair extensive termite damage.
What does the inspection involve?
Our technicians are highly qualified to inspect your property, recommend a treatment, and then carry out that treatment to ensure your property is termite-free. One of our technicians, Dale Casford, has over twenty years of construction experience, so he knows about building structures and the havoc caused by termites.
Some of the inspection techniques we use include:
Listening devices: One of the least invasive techniques for detecting termites in your home is listening using a stethoscope or other equipment. Termites make noise as they burrow and move through timber, so this allows us to confirm their presence.
Moisture metres: Elevated levels of moisture in your walls or ceiling may indicate the presence of termites. We combine this with other techniques to help track where the termites are congregating.
Borescope: A semi-invasive tool, the borescope allows us to take direct images of your termites, confirming their presence. A small hole (that can be easily patched up) is drilled into your wall, and a small camera takes images inside the termite's tunnels.
Termatrac T3i: A non-invasive detection tool, the Termatrac T3i does it all. It uses radar, thermal, and moisture detection to Termatrac can accurately track your termites to their source.
The best time for an inspection was yesterday
After a thorough inspection using a combination of the above tools, our technicians will give you a report detailing their findings, and recommendations relating to termite treatments. These generally fall into two stages:
Remedial treatment: Our technicians will tailor a treatment to get rid of the termites. This might involve baiting, dusting, and installing pesticide barriers around your property.
Preventative treatment: We will give recommendations for preventing future termite infestations. This may involve the installation of physical or chemical barriers around your property.
Don't wait for termites to become a major problem. Schedule an appointment with a technician today. Call 131 546, and we will get back to you shortly.
Wasp nest removal Sunshine Coast QLD
Here at Jim's Pest Control, we are your local wasp nest removal Sunshine Coast experts. Wasps can put you, your pets, and your family in danger of painful (and sometimes very harmful) stings. If you notice a wasp nest in your home, garden, business or school, it's wise to give us a call. Just dial 131 546, and your local technicians will get back to you quickly.
Wasp nest removal Sunshine Coast – why do we need it?
Wasps are very useful insects. They pollinate plants, flowers, and fruit trees, and have a tremendously beneficial effect on native plants. Unfortunately, wasp stings are extremely painful and in some people can cause potentially deadly allergic reactions. Sunshine Coast buildings are particularly at risk, thanks to our warm, humid climate and plentiful fruit trees, which act as an ideal feeding grounds for the wasps.
Why wasps are an issue:
Their stings create histamine, an organic compound involved in the swelling process. Histamine can cause anaphylaxis, an allergic reaction which can close your airways, cause vomiting, or even result in shock. If anaphylaxis is untreated, it can result in death.
This can put people in danger: If someone is allergic to wasp stings, they are at great risk if the wasp nest is not removed safely.
It is tempting to simply take care of the problem yourself, but we don't advise it. Removing the wasp nests can cause the entire colony to swarm and attack, leading to potentially hundreds of wasp stings.
Leave it to the experts to safely remove your wasp nest
At Jim's Pest Control Sunshine Coast, we know how to take care of your wasp nest removal. Our technicians are experienced in the most up-to-date pest control techniques and tools, so you can be rest assured that we will get rid of your wasp problem fast:
We start by performing a thorough inspection of your property to make sure we find the source of the wasps. Sometimes wasp nests are obvious, but often they're out of view or in awkward places.
After the inspection, we take steps to ensure the wasps do not swarm as a result of our activity. We also wear special gear, so that if the colony does swarm, we are protected.
We then work out if it's possible to remove the nest. Some wasp nests are embedded deep into the surrounding material, making them impossible to remove. If we are unable to remove the nest, we will apply an insecticide that will deal with the wasps where they are instead.
We then dispose of the wasps safely. Even a dead wasp's sting can cause you harm, so it's important to remove all traces of the colony.
Pest control preventative measures
As always, prevention is the most effective form of pest control. Here are some tips for making sure wasps steer clear of your property.
Keep sweet and sticky foods are stored securely, and dispose of any waste that might attract wasps. Wasps love sugar and leaving sugary foods in the open could draw them to your property.
Use nets and other protective measures around your fruit trees and/or garden. This will aid in keeping the wasps from feeding.