Jim's are your pest control Coolum Beach experts. Our local technicians are experienced, fully trained, and insured, and you can trust the Jim's name to help you with any pest problem. We're here for you when you need us.
Simply call 131 546 and our friendly staff will arrange for our technician to contact you.
Coolum Beach is a wonderful place to live for families and retirees alike. With a strong community spirit and incredible natural beauty, there's a lot to love.
But no matter how pristine a place is, pests are always going to become a problem. That's where we come in. When you find yourself dealing with termites, ants, or cockroaches, we have the tools and the knowhow to get rid of them quickly.
Why do locals trust Jim's Pest Control Coolum Beach?
From Emu Mountain to Point Perry, we cover all of Coolum Beach and the greater Sunshine Coast area. Locals know they can count on Jim's Pest Control to take care of all their pest and termite problems.
Flexible appointments: We know that your time is precious, which is why we come when it suits you.
We cost less: Because we're part of the Jim's family of services, we're able to lower our expenses, passing the savings on to you.
Guaranteed results: All of this is backed by Jim's Satisfaction Guarantee – if the treatment doesn't work, we'll fix it free of charge.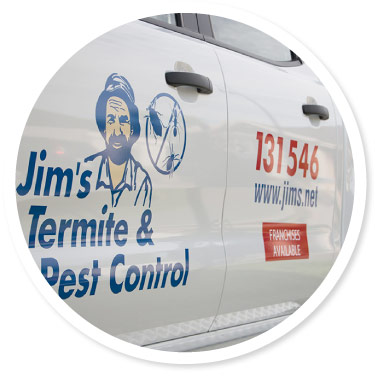 Don't let an ant invasion get you down – let us get rid of them
If you find ants in your home, it may mean that your food stores are unsecured and possibly even contaminated. House ants are opportunistic scavengers, which means that they can track bacteria and germs from your garbage to your food.
While you can stop the ones you see, you should call Jim's Pest Control Coolum Beach to stop them coming back for good. We do this by destroying the source, and using non-disruptive treatments inside your home, just to be safe.
Mosquito infestation? We can deal with them
Mosquitos love humidity and stagnant water. They can breed in rainwater tanks, garden ponds, even bird feeders. If you're finding mosquitos everywhere, especially in the summer, you could have an infestation. Mosquito infestations can be dangerous to your health and the health of your neighbours, but we're here to help. After tracking the source of the infestation, we offer a range of treatments, as well as helping to prevent future mosquito problems.
Dale and Miguel – your local Coolum Beach pest experts
Coolum Beach locals are always singing the praises of Dale Casford and Miguel Abesamis for their quick response, their friendly customer service, and their willingness to go the extra mile for their clients.
When Dale started training to become a pest control technician, he had 20 years of construction experience under his belt. This means he knows buildings, and he understands what termites can do to the structure of your home or business.
Miguel loves meeting people from all walks of life, and giving them the best service he can provide. To do this, he recommends annual pest inspections, to ensure your pest problems are stopped before they get out of hand.