Jim's specialises in commercial pest control services,  including in industrial situations. In the food manufacturing industry, such as restaurant pest control, it is particularly important to get it right.
Controlling pests is vital in any business as they will contaminate areas quickly and affect the health of employees and customers, not to mention the damage to stock or products. This can then have a significant impact on the running of the business.
Why Use Jim's for Commercial Pest Control Services?
Jim's Pest Control will design and implement an integrated pest management program to suit your business which complies with all health and safety regulations. We aim to minimise any disruption to your business during the initial inspection and ongoing treatments for your premises.
Upon completion of any treatment we will provide you with full documentation and a detailed report including a site service register.
Our technicians have all achieved Certificate 3 in Asset Management (Pest Management – Technical) and all have National Police Clearances. To have a team of technicians with these qualifications is rare in the industry and is something we're extremely proud of.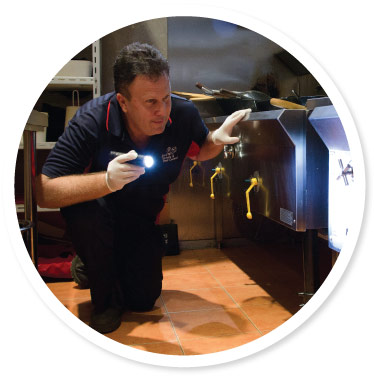 This ensures that when we provide you with a proposal detailing how we will protect your business and solve your pest issues, our technicians all have the experience and knowledge to follow through on our proposal. Also, being part of the famous Jim's Group, you know we are a brand you can trust.
Restaurant Pest Control: The Implications of Pests
Now, why should you, a restaurant owner, be worried? For starters, pests can tarnish your reputation. Imagine a customer spotting a cockroach or a rat. The news will spread, and soon, diners might choose other establishments over yours. Moreover, pests pose health risks. They can carry diseases that can contaminate food, utensils, and surfaces. Read more about our restaurant pest control services.
Commercial Rodent Control – Battling Rat and Mice Infestations
Even with adequate prevention measures, infestations can occur. When they do, swift action is necessary.
Help from Jim's is always just a phone call away. Sometimes, DIY methods fall short. In such cases, professional rodent control like Jim's Pest Control Queensland is the way to go. Expert knowledge and specialised tools can clear infestations more rapidly and effectively. Read more about our commercial rodent control services.
Why is Warehouse Pest Control Important?
Warehouses are more than just storage spaces. They're a critical link in your business chain. But they're also prime real estate for pests. When pests invade, they compromise the quality of goods, pose health risks, and damage your brand reputation. For the most effective warehouse pest control treatments, call Jim's today on  131 546.
Why Strata Pest Control is Essential
Strata properties, comprising multiple units or apartments, face unique challenges. Close living conditions can quickly spread pests. Think about it: one unit gets infested, and soon, adjoining units feel the impact. To speak to a local expert about strata pest control services, call Jim's today.
With Commercial Fly Pest Control, Prevention is Better than Cure
Stopping these winged nuisances from gaining a foothold is the first step. Regular cleaning, especially in dining and food preparation areas, is vital. Ensure that spills, especially sweet or sticky ones, are cleaned immediately.Also, flies adore garbage. Using sealed bins and frequent waste removal can drastically reduce their presence. For professional commercial fly control services, contact Jim's today.
Why Birds Become Pests and Commercial Bird Control Is Needed
Pigeons are perhaps the most infamous of the lot, known for colonizing cities worldwide. Due to their adaptability, they feel as much at home on a skyscraper as they might on a cliff. But pigeons, along with other birds, are attracted to food sources, leading them to places like restaurants, warehouses, and other commercial establishments. For the ultimate defence against unwanted avian guests, contact Jim's for commercial bird control.