Jim's are your pest control Gordon Park experts. Our local technicians are experienced, fully trained, and insured. You can trust the Jim's name to help you with any pest problem.
We're here for you when you need us. Simply call 131 546 and our friendly staff will arrange for your local technician to contact you.
Gordon Park is often described as Brisbane's hidden gem, and we have to agree it's a pretty nice place to live. Whether it's family parks and walking trails, the closeness to city life or being right next to Kedron Brook, it's hard not to enjoy this area.
Unfortunately, the warm weather and close proximity to the brook can bring some unwelcome visitors into our homes and businesses. At Jim's we know how to prevent and eradicate these pests so you can enjoy the Gordon Park lifestyle without them.
Jim's Pest Control Gordon Park – local knowledge, national expertise
Our pest control technicians are long-time Gordon Park locals and no stranger to dealing with pests in the area. While they enjoy working in the local community, they also like the fact that they are backed by high levels of training and equipment from Jim's, enabling them to do the best possible job.
For Gordon Park Pest Control technicians, the most important thing is that we make our customer's lives easier and keep them happy. We love it when we hear them speak delightedly about the high quality job we do and the value they get for their money.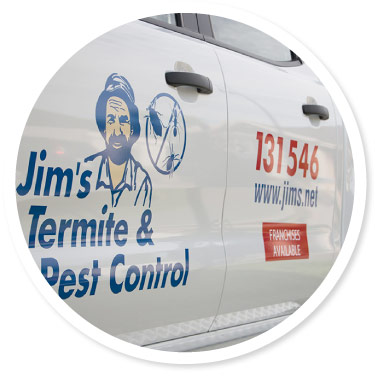 The rodent control professionals
Most Gordon Park locals love living near Kedron Brook, but unfortunately, the brook also makes a perfect home for rats and mice. These critters aren't nice to have around – they can spread infections through their droppings or fleas, cause physical damage by gnawing doors, skirting boards and furniture, and can even start house fires by chewing through electrical cables.
Easy to recognise from their droppings and clawing sounds in the night, it's important you eradicate them quickly and safely.
Jim's Gordon park have extensive experience dealing with rodents, and we can setup a pest control program using special bait stations that will eliminate them while keeping pets and children safe from poisoning.
We will also give you advice specific to your own property to help you prevent them from coming back.
Your skilful local technician
Adrian Berry is Gordon Park's pest control expert. Experienced at dealing with pests of all shapes and sizes, he isn't afraid to tackle any job, big or small.
As a small business owner living in the area for several years, Adrian is very community-minded, and likes nothing more than to see the relief on the faces of his fellow Gordon Park residents when he sorts out their pest control issues for them.
In his spare time, Adrian can be found spending time in the community, or enjoying the area while walking his dogs.