For pest control Burpengary services, Jim's are your experts. Your local technician is fully trained, insured, highly experienced, and backed by Australia's most trusted name in pest management – Jim's Pest Control. When you need us, we'll be there.
Just call us on 131 546, and our team will arrange for your local technician to contact you.
For residents in Burpengary, the suburb is a place of rest and relaxation, with ample parks and nature just around the corner. So it's no wonder this suburb has become a hidden gem for families with kids, retirees, and Aussies who love the outdoors.
Unfortunately, humans aren't the only residents in Burpengary who enjoy the warm weather and greenery—pests do too. Homes and businesses in the area sometimes find themselves with unwanted guests, including fleas, ticks, wasps, termites, bees, and even birds. If you're experiencing pest problems in your home or commercial site, Jim's can help. We're just a call away.
Jim's Pest Control Burpengary – the local expert with guaranteed results
With a generous amount of pest controllers servicing the area, it can be challenging to know who to trust with your home and health. For your peace of mind, there are three questions you can ask:
Are they a locally owned business?
Will the technician complete a thorough inspection of the property before starting work?
Are they a recognised brand with guaranteed results and proven customer service?
When you hire Jim's Pest Control Burpengary, the answer to all three of these important questions is "yes."
We will put you in touch with your local technician who is highly experienced and familiar with working in your area. They will perform a pre-control inspection of your property when it suits you to ensure your pest problems will be solved with minimal disruption and maximum efficiency.
And by being part of the Jim's family, your local technician can offer you Jim's famous 100% Satisfaction Guarantee.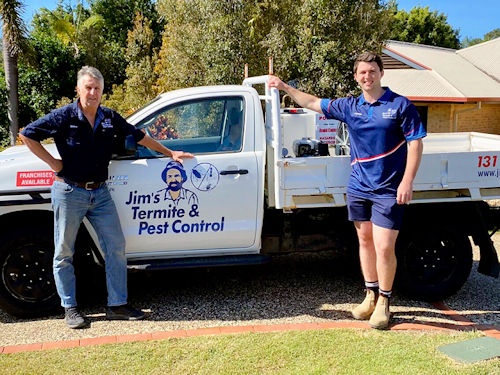 Termite Control – Exterminate White Ants

For termite treatment in Burpengary, you cannot go past the local Jim's exterminator for experience and quality. Our termite control services incorporate the very latest detection technology and our pest technicians have years of experience.
The equipment we use, coupled with extensive local area knowledge, means that we are the experts in detecting and ridding your premises of white ants (termites).
We are your #1 choice when it comes to termite pest control in not only Brisbane and surrounding suburbs, but other areas of Queensland too.
Spider Control
Our spider control service include on-site inspections in which we will inspect your property and identify areas of concern. If required, we will apply a surface spray that is licensed and formulated for spider control. This would be to walls and paths, gutters, baseboards and soffits.
Meet Burpengary's Local Pest Control Expert
Steve is the pest exterminator trusted by residents in Burpengary and Oceanview to keep their homes and businesses free of pests.
As a local with many years of experience in pest control, Steve has the experience, knowledge, and understanding of the area to tackle any pest problem with care and efficiency.
Customers choose Steve for their pest management needs thanks to his down-to-earth attitude and broad scope of knowledge.
With the support of Jim's Pest Control, Steve can fully focus on his customers and ensure that they receive the highest level of service and the best results from their pest control.
If you're searching for a pest controller who takes the time to understand your property's unique requirements while offering exceptional service and guaranteed results, call us today.
For a free pest control quote, contact us now.