Jim's are your pest control Redbank experts. Our local technicians are insured and fully trained in the latest treatments, and you can trust the Jim's name to help you with any pest problem.
For fast service, call 131 546 and speak to our friendly staff – your local technician will contact you directly.
Why Jim's Pest Control Redbank?
With your technician local to Redbank and the South Brisbane region, they have the knowledge to deal with any pest you might find troubling you. Home or business, we will help keep it clean, hygienic, and pest-free.
Some of the reasons customers rely on us:
Fast response times: We aim to return your call within the hour, and come out for an appointment soon after.
Licenced, police checked and insured: We make sure all our Redbank technicians complete regular police checks and have the proper license and insurance to perform your pest removal promptly.
Backed by the famous Jim's Service Guarantee: If the treatment doesn't work, we'll fix it free of charge.
We treat all pests of Brisbane
Almost any pest you can think of, we can help you with – from creepy crawlies (or flying ones!) to larger problems like possums. Jim's Pest Control Redbank will provide you with an approximate quote once your site is inspected and a comprehensive treatment backed by warranty.
We provide extermination and/or removal services for:
Termites
Ants
Bed bugs
Birds
Cockroaches
Fleas
Possums
Rats and mice
Silverfish
Spiders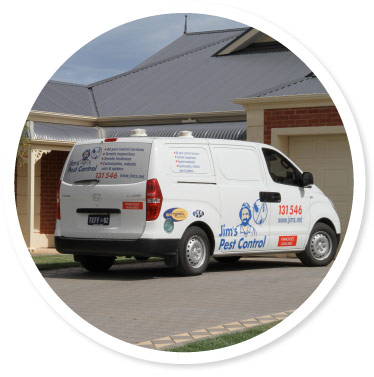 Termite treatment you can rely on
When termites strike, it doesn't matter what age your property is. They are attracted to all house types, particularly in the warm and humid climate surrounding Brisbane. We also find that many homeowners don't realise that their home insurance rarely covers the damage done by termites.
Luckily, we're here to tell you it's simple to avoid an infestation. Jim's Pest Control Redbank offers the latest termite detection and treatment technology.
Our services include:
Termite inspections: Every homeowner should plan a preventative inspection at least once a year. This will detect signs of termites that you can't see, so we can catch them before they become a major problem.
Termite prevention: To prevent termites from infesting your home or returning, we can install pesticide and physical barriers that protect your home from harm. We have a range of solutions to suit your situation and budget, and we will advise on the best solution for you.
Termite treatment: We have aggressive and effective treatment solutions in various forms to stop a termite infestation in its tracks.
Brisbane area buildings are ideal for rodents. They are the perfect habitat, providing food, water, warmth, and shelter, especially in the cooler months. Rats, like mice, are more than just an annoyance – they can cause significant damage by chewing electrical cables and burrowing into walls.
You may have a rat problem if you notice scratching at night, greasy marks on walls, or small dark droppings.
Jim's knows what to do. After a thorough inspection, we plan out a treatment solution using traps, baits and tracking powders to find out what's happening. We also help you with preventative measures to ensure the rats don't return in the future.