Jim's are your pest control Redlands experts. Your local technician is experienced, fully trained, and insured, and you can trust the Jim's name to help you with any pest problem.
We're here for you when you need us. Simply call 131 546 and our friendly staff will arrange for our technician to contact you.
Redlands is the ideal suburb for people seeking a quieter, more relaxed way of life. Major amenities are within easy reach, and the area offers something for everyone; parks and green spaces to enjoy, an up-and-coming café scene, and plenty of water-based activities for the whole family.
And, while Redlands residents enjoy their lifestyle, they know that being so close to nature means that pests such as ants, termites, rodents, and possums also like to call the area home. Fortunately, if you have an unwanted pest problem in your home or business, Jim's is here to help.
Jim's Pest Control Redlands – fast, reliable service with guaranteed results
Locals in and around the Redlands area know that they can trust their local Jim's technician to provide pest control that's safe and guaranteed to work.
If you're worried about pests, we'll make an appointment to inspect your property free of charge at a time that suits you. Following our inspection, we provide you with an accurate quote for the recommended treatment.
While we pride ourselves on our competitive prices and outstanding value for money, we know that everyone has different financial situations. For this reason, we will provide you with a range of treatment options that will suit not only your pest control requirements, but also your budget.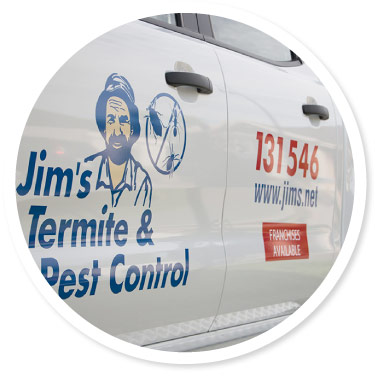 Ant control – don't let these small pests become a big problem
As Redlands residents know, ants are becoming an ever-increasing problem in the area, and often these little pests seem to appear from nowhere. The problem with ants is that once they've located a food source, huge numbers of them will appear to carry the bounty back to the colony.
If you follow the trail, you'll be able to locate the nest. But you may soon realise that they'll be difficult to treat if the nest is in the walls of your home or business, or even on an adjoining property.
So if you find yourself with an ant infestation, it's always best to call an expert who will be able to quickly and effectively treat the problem.
At Jim's Pest Control Redlands, we're experts at conducting inspections and providing non-hazardous solutions that will eliminate any ant problem. Not only that – we'll also advise you on how you can prevent ants from returning to your property in the future.
Damien Clayphan is the local Jim's Pest Control technician for Redlands and the surrounding area. Priding himself on his attention to detail and outstanding customer service, Redlands residents can be assured that Damien will be able to deal with any pest problem.
In fact, being able to rid his customers of their pest problems gives Damien the greatest job satisfaction. With expert local pest knowledge, and having access to the latest pest control techniques and equipment, you can have peace of mind knowing that he'll provide you with fast, honest, reliable service, with quick, and effective results.
If you have a pest situation on your hands, Damien is here to treat it before it becomes a big problem…allowing you to get back to business – or your day-to-day life – knowing your troublesome intruders are gone.