Jim's are your pest control Caloundra experts. Our local technicians are experienced, fully trained, and insured. You can trust the Jim's name to help you with any pest problem.
We're here for you when you need us.  Simply call 131 546 and our friendly staff will arrange for our technician to contact you.
You could say we're a lucky bunch in Caloundra. Whether it's the warm weather we get for most of the year, the laid-back local feel, or being spoilt for choice with our beautiful beaches, there's a lot to like in this part of the world.
Unfortunately, there are a few unwelcome critters that love our warm weather as much as we do. These include termites, who thrive in our higher temperatures, as well as ants, who make the most of warm weather to travel further away from their nests and go foraging in our homes instead.
And it's not only the temperature that's the issue. In our subtropical climate, the combination of warmth and moisture also helps mosquitoes breed faster, irritating us all in the summer months.
Even when the weather does cool down we're not immune. Spiders, cockroaches, and other creepy crawlies often migrate into our houses to escape the colder weather.
However, troublesome pests shouldn't get in the way of a pleasant Sunshine Coast lifestyle, so we're here to help.
Jim's Pest Control Caloundra – the technicians you can trust
Caloundra locals have always known that they can rely on Jim's Pest Control to fix their pest issues – fast. They know that they can get in contact with us at any time, and will be able to talk to their local technician soon after enquiring.
Your technician usually attends the site first, so they can get a thorough understanding of the issue you're dealing with and give you an accurate quote.
We already have very competitive prices, but we understand that everyone has a different budget. That's why when your technician comes to assess your issue, they will do their best to quote you for a few different options so you can find one that will work for your budget.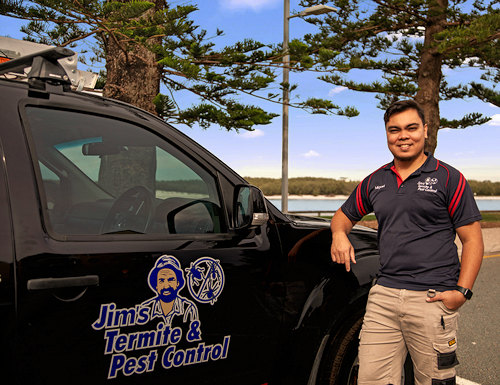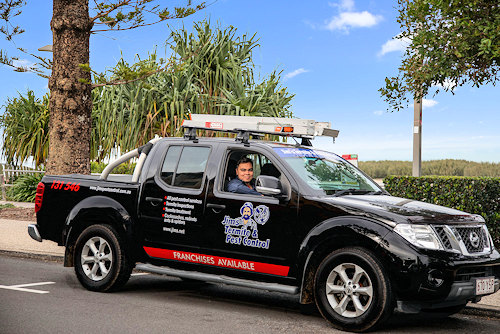 Having a problem with cockroaches?
Did you know that cockroaches breed extremely quickly? A single cockroach and its young can produce 300,00 roaches in just 12 months! So if you start seeing them pop up around the place, don't waste time before calling in the pest control experts to get them eradicated.
At Jim's Pest Control Caloundra, we're often helping residents dealing with cockroach infestations. We have specialised equipment, techniques and advice to help our customers quickly get rid of all cockroaches and cockroach eggs, while making sure they don't return.
Your local, friendly expert
Miguel Abesamis is Jim Pest Control Caloundra's knowledgeable pest control provider. He is popular among his customers for being punctual, reliable and always going above and beyond in his service for them.
Miguel's priority is to make sure his Caloundra customers get a great result. Combining high quality products with his high attention to detail, he takes care to always do the job right the first time.