Jim's are your pest control Noosaville experts. Our local technicians are experienced, fully trained, and insured, and you can trust the Jim's name to help you with any pest problem. We're here for you when you need us.  Simply call 131 546 and our friendly staff will arrange for our technician to contact you.
Noosaville is a lovely suburb, bordering the scenic Noosa River and the breathtaking Lake Weyba. With a fabulous café scene and plenty of fun to be had for the kids, we have something for everyone.
Living so close to large bodies of water comes with its own hazards, of course. Mosquitos, rats and birds are all frequent problems in our area. Luckily we're here to help, with the tools and experience to remove problem pests and keep them out.
What makes Jim's Pest Control Noosaville different?
When you call Jim's Pest Control Noosaville, you can be assured that you're calling a local who cares about your pest issues just as much as you do. We cover Noosaville, as well as the greater Sunshine Coast region, and we're locally owned and operated.
Our technicians have the latest training in pest control and management techniques, as well as the most up-to-date, environmentally friendly tools and equipment.
We offer 24-hour online enquiries, as well as a call centre who will connect you with your local technician.
We're part of the Jim's family, which means lower prices backed by Jim's Satisfaction Guarantee – if the treatment doesn't work, we'll fix it free of charge.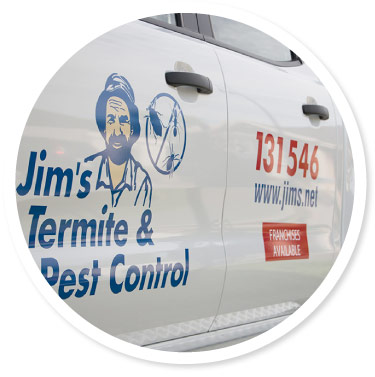 Possums in your roof? We'll remove them
If you're hearing thumping coming from your ceiling, you may have possums living in your roof. While they may be cute to look at, they are a nuisance in your home. They can ruin your insulation, chew through wires, and get aggressive when they feel threatened.
When you hear possums in your roof, give Jim's Pest Control Noosaville a call. After a thorough inspection, we will humanely capture and release the possums in compliance with Australian law. We will also seal up any small gaps in your roof to keep them out for good.
Meet your local Noosaville pest technicians
Dale Casford is Noosaville's local pest control technician. He loves the fact that he is always meeting new people and finding new solutions to pest problems. Before becoming an expert on pest control he worked in construction, so he knows the havoc that termites can cause to the structure of your residence or business. The best part of his job is seeing the relief on his clients faces when he gets rid of pests for them.