Jim's are your pest control Logan experts and you can trust the Jim's name to help you with any pest problem. Our local technicians are insured, fully trained, and experienced.
For fast service, call 131 546 and speak to our friendly staff – your local technician will contact you soon after.
Why Jim's Pest Control Logan?
Logan locals know they can trust Jim's to keep their home or business clean, hygienic, and free from annoying pests. Backed with Jim's comprehensive training and with hands-on experience, your technician is fast, effective and reliable.
Some of the reasons customers rely on us:
Locally owned: Your Jim's Pest Control Logan franchisee is local to the area –familiar with the environment and knowledgeable in how to get rid of your pests quickly.
Fast response times: We aim to return your call within the hour and will book an appointment for soon after.
Fully trained: Your Logan technician stays up-to-date on the latest pest control and management techniques to exterminate pests safely and effectively.
All pests, in all situations
Jim's Pest Control Logan covers everything from flies to fleas as well as larger pests like possums. We always provide a quote and inspection before commencing treatment, so you know exactly what to expect. Each treatment is backed by warranty and the famous Jim's Guarantee – if it doesn't work, we'll come back free of charge.
We provide extermination and/or removal services for:
Termites
Ants
Bed bugs
Birds
Cockroaches
Fleas
Possums
Rats and mice
Silverfish
Spiders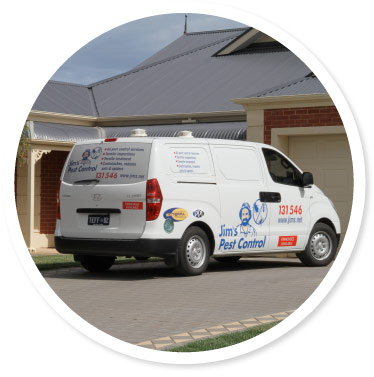 Get ahead of the termites
Termites are the bane of many households in the Brisbane region, where the warm and humid climate is perfect for an infestation. Unfortunately, it's hard to spot early signs of termite activity with the naked eye and that's why it's essential to get a termite inspection every year.
By contacting us for an inspection straight away, you'll lower the risk of an infestation. Our experienced technicians will look for not only signs of termites but also risk factors – such as mulch or rotting wood too close to the house – that could encourage them. The earlier we can stop the termites, the better off your home will be. If they are present, we'll determine the extent of the damage and provide termite treatment with baits and pesticide barriers to stop the infestation in its tracks.
If you have already had termites or are building a new home, we recommend termite barriers to prevent them from returning and causing further damage to your Brisbane property.
Worried about spider webs and bites?
It's no secret that we have our fair share of scary spiders in Australia. While the occasional spider web is easy enough to brush away, if you have a large number of spiders, you may notice a buildup of webs, which could lead to worry, especially if you have young children or pets at home.
Luckily, we don't mind you calling us to remove them! Because we're experts in pests, we'll be able to set your mind at rest about the type of spider you have and put down a preventative surface spray that will discourage the spiders from calling your property home. You can also remember simple tricks like not leaving toys outside, wearing gloves to garden and bringing the washing in before dark.