Jim's are your pest control Rochedale experts. Your local technician is experienced, fully trained, and insured, and you can trust the Jim's name to help you with any pest problem. We're here for you when you need us.
Simply call 131 546 and our friendly staff will arrange for our technician to contact you.
A highly desirable suburb, Rochedale is situated just 12kms from the Brisbane CBD and has easy access to major amenities and infrastructure. Offering locals green spaces and close to several conservation areas, Rochedale is ideal for professionals, families, and retirees alike who want to get closer to nature and enjoy an outdoor lifestyle.
And while Rochedale residents enjoy their safe, friendly community, they know that one thing that could disrupt their lifestyle is the invasion of unwanted pests. Fortunately, if you are concerned about or find yourself with a pest problem, Jim's is here to help.
 Jim's Pest Control Rochedale – your trusted local pest experts
If you have a troublesome pest problem in your home or business, you need a professional company you can trust to deal with the situation quickly and effectively. Jim's Pest Control Rochedale can be relied on to provide fast, honest, reliable service, and our results are guaranteed.
Your satisfaction is our priority, which is why every treatment comes with the famous Jim's Guarantee: if the pest control treatment doesn't work the first time, we'll come back until it does – free of charge.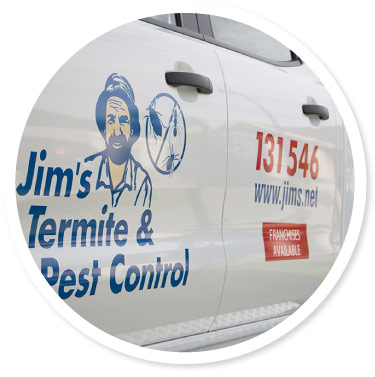 Rat Pest Control – Safeguard your property from rats and mice
Rats and mice love taking up residence indoors, particularly during Queensland's cooler months. Not only are these unhygienic little critters bad for spreading disease; they can also cause serious property damage by chewing through wiring, insulation, and skirting boards.
Unlike some other pests, rodent problems are usually straightforward to detect. You may notice their droppings, but you're more likely to hear the squeaking and scurrying of rats and mice in your roof or wall cavities at night.
At Jim's Pest Control Rochedale, our treatment always starts with a thorough inspection before using remedial methods that involve using bait, traps and/or tracking powder. We will also discuss how you can prevent any return visits.
Your local Jim's Pest Control Rochedale expert
Damien Clayphan is the technician for Jim's Pest Control Rochedale. As a local himself, Damien understands the behaviour of pests in Rochedale, so he is able to put in place treatment programs to deal with any pest quickly and effectively.
Providing outstanding customer service, and fast, effective results, Damien's number one priority is his customers. In fact, seeing his customers' look of relief when he eliminates their pest problem is what gives Damien the greatest job satisfaction.
A strong advocate for regular pest and termite inspections, Damien knows that a small investment now could save his customers thousands of dollars in the future.