Jim's are your pest control Cleveland experts. Your local technician is experienced, fully trained, and insured, and you can trust the Jim's name to help you with any pest problem. We're here for you when you need us.
Simply call 131 546 and our friendly staff will arrange for our technician to contact you.
Cleveland is popular for many reasons. These include the numerous cafes and restaurants, the open green spaces and parklands, and easy access to the bay and North Stradbroke Island. With the temperate climate and so many people living in and visiting the area and, it's easy to see why it's also a haven for pests.
Termites, rodents, spiders, possums, and all kinds of creepy crawlies also reside in Cleveland homes, businesses and backyards, which is why Jim's is always on-hand to help.
Why Jim's Pest Control Cleveland?
With Jim's, you get a local Cleveland pest control technician who has the training and knowledge of one of Australia's most experienced pest control companies.
Your local technician has access to the most advanced pest control techniques and equipment, so can be assured that they'll provide you with fast, reliable service, and will eliminate any pest problem quickly and effectively.
Before we begin any work, we always like to get a better understanding of your pest situation. After making an appointment at a time that suits you, we will conduct a thorough inspection of your property. We can then provide you with a detailed report outlining any work required, and an accurate quotation for the treatment needed.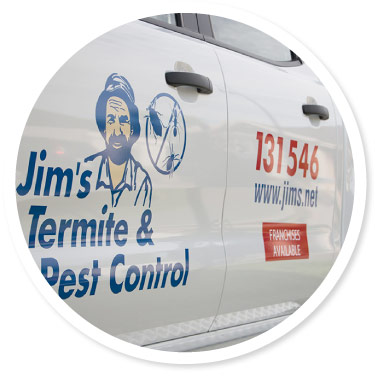 Termite treatment – is your home or business vulnerable?
Did you know that approximately 1 in 3 Australian homes are affected by termites? With termites causing millions of dollars of damage to properties every year, don't let this happen to you. It's important to remember that the cost of a pest and termite inspection is miniscule compared to the cost of an untreated infestation.
At Jim's Pest Control Cleveland, we conduct thorough termite inspections throughout your property to ensure that nothing is missed. And if we find evidence of termites or termite damage, we'll discuss the most effective treatment and management options for your situation.
Your local Jim's Pest expert
Residents in and around Cleveland can rely on Damien Clayphan, to handle all their pest problems. Providing friendly, knowledgeable service to his clients, when you call Damien you will have the peace of mind that he can capably deal with any pest situation.
With his local pest knowledge and training as a Jim's technician, Damien is a strong advocate for regular termite and pest inspections. He knows that by making a small investment now, you can reduce the much larger cost of a harmful pest infestation.