More and more homeowners are turning to solar panels as a way to save money on their electricity bill. One unfortunate downside is birds taking up residence underneath them, thus the need for pigeon proofing solar panels.
When pigeons nest under your solars panels they cause extensive damage to both the panels and wiring, not to mention the unsightly mess they leave on your roof.
Fortunately, we have a solution for preventing pigeons from roosting under your panels. Contact Jim's on 131 546, and your local pest control technician will get back to you shortly.
Pigeon proofing solar panels – what's the problem?
When pest birds get underneath solar panels many, often costly issues, can arise including:
Damage to your solar panels
Pigeons can cause a lot of damage to solar panels, which can be very costly to repair.
They destroy wiring, severely reduce airflow, and their droppings can even be corrosive.
Their presence can amount to thousands of dollars worth of damage, not to mention inhibit the flow of electricity from your solar panels, costing you even more money.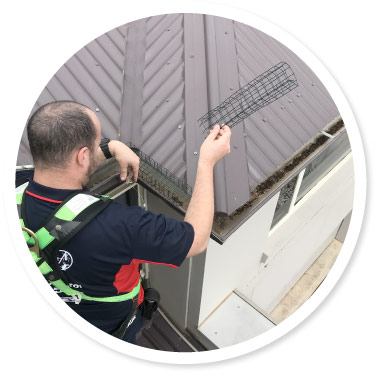 How does solar panel pigeon netting work?
Solar panel pigeon mesh is a galvanised wire mesh coated in UV stabilised PVC. It is fastened to the sides of your solar panels in a way that stops pigeons, rodents, and debris from getting underneath them.
The implementation process is easy for you. Our technicians always start with a thorough inspection, then our technicians first have to get rid of the birds. This is usually done with a fast-acting poison, or by safely and responsibly shooting them.
After we thoroughly clean underneath the solar panels, the mesh is installed, and your solar panel bird problems should be solved. All of our solar panel meshes come with a comprehensive warranty.
Contribute to an unclean environment
Birds living under your solar panel leave a mess that's difficult and time-consuming to clean (especially if it's on the roof). But they also pose a significant health risk: pigeons spread illnesses including salmonella, ornithosis, and even cryptococcosis. What's more, they carry lice, mites, and other nasties that can get into your roof and spread to your home's occupants.
Jim's Termite and Pest Control Queensland – the bird control experts
When you use our technicians to install your solar bird proofing, you're trusting a company with 27 years of experience. Your local Jim's pest control technicians are truly local, meaning that they care as much about your pest problems as you do. Because we're in the Jim's family of services, we're able to offer the best treatments currently available while keeping our expenses low, thus passing the savings on to you.
To ensure your peace of mind, your solar panel pigeon proofing will be covered by Jim's Service Guarantee: if the treatment doesn't work, we'll come back to fix it free of charge. Don't wait for pigeons to damage your solar panels.