For pest control and termite treatment in the Robina area of Brisbane, Rob Monahan is Jim's Termite & Pest Control Robina local expert.
Rob joined Jim's as one of the first Franchisees in Queensland. It was eight years ago, and straight away he was excited at being involved with such a widely recognised brand with National backing.
Being a local-to-you, small business owner, he sees the value of offering very personalised service. Over the years, he has developed great relationships with his customers in Robina and surrounding suburbs, and in fact sees many of them year in, year out, to performs tasks such as termite treatment follow ups.
As with all Jim's pest control technicians, Rob cares about his customers.
With years of pest control experience, one of the tips Rob can offer people is to not spray termites with Mortein.
If you do find termites in or around your home (or workplace), it's best not to disturb them. They can desert that particular site, and spring up somewhere else when na where you least expect it.
The take away is that if you suspect you have termites, call an expert to do a full termite inspection, and, if required, a termite treatment and protection campaign.
One of the more interesting jobs Rob has had to perform is to "tent-up" and fumigate an antique merry-go-round. It was a very large, beautiful, and fully operational unit which was suffering from wood borers in the horses.
Being a long term resident of Queensland, Rob loves living here, but it IS Queensland – the bugs love it too, especially termites, ants and cockroaches.
So, if you want a local, experienced and fully insured pest technician in the Robina area, call Jim's on 131 546, or use the contact form.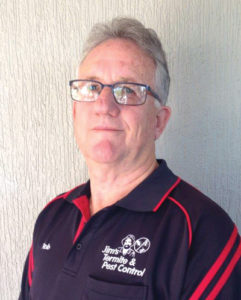 Why choose Jim's for pest control Robina?
With Jim's you have peace of mind, because all Jim's Termite and Pest Control small business operators are:
security screened
fully trained
fully licensed
carry comprehensive insurance
Rest assured that your property is in the hands of a trustworthy termite and pest control professional.
Commercial Pest Control Robina Services
Do you a have commercial premises in Robina or surrounding suburbs which needs the services of a pest exterminator?
Jim's is able to take care of all your commercial needs, from one-off treatments to serviced contracts.
With our experience, we can tailor our services to meet your specific commercial needs.
At Jim's Robina, we offer following inspection services, which covers termites and other timber pests, including borer beetle and wood decay:
An annual termite inspection of your property
Pre-purchase inspection of your property
We also provide a range of options for:
Termite protection when you are building or adding an extension
Protecting your existing property from termite damage or treating an existing termite colony