Jim's are your pest control Pacific Pines experts. Our local technicians are experienced, fully trained, and insured, and you can trust the Jim's name to help you with any pest problem.
For fast service, call 131 546 and speak to our friendly staff – your technician will contact you soon after.
Why Jim's Pest Control Pacific Pines?
Your Pacific Pines pest exterminator has expert knowledge of local unwanted guests. Whether you're inland or near the beaches of the Gold Coast, we know how to deal with troublesome intruders and keep your home or business clean, hygienic, and pest-free.
Some of the reasons customers rely on us:
Jim's Service Guarantee: If the treatment doesn't work, we'll fix it free of charge.
Locally owned: Your Jim's Pest Control Pacific Pines technician is a local business owner with extensive knowledge of rapid pest control in the Gold Coast region.
Fully trained: Your technicians is up-to-date on the latest control and management techniques to exterminate pests safely and effectively.
Pests of the Gold Coast, beware!
Jim's covers everything from annoying ants in your pantry to worrying wasps in your garden. Your local technician will provide you with a quote after inspecting the site, then provide a comprehensive treatment backed by warranty.
We provide extermination and/or removal services for:
Termites
Ants
Bed bugs
Birds
Cockroaches
Fleas
Possums
Rats and mice
Silverfish
Spiders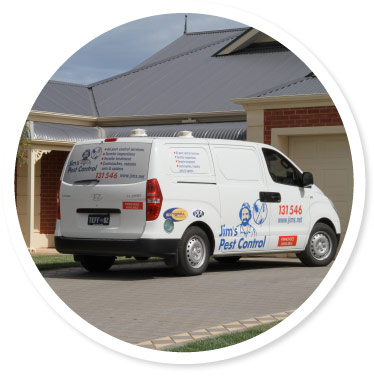 Termite control you need to know about
Termites are the bane of many households in the Gold Coast region – the warm and humid climate puts your property at serious risk of an infestation. Unfortunately, once you have seen signs of termite activity, the damage has already occurred. That's why it's essential to get a termite inspection every year.
If you've seen signs of possible termite activity – ranging from damaged woodwork in the house to swarms of insects outside – you should contact us for an inspection and termite treatment straight away.
The earlier we can find the termites, the better off your home will be. If we discover them, we'll determine the extent of the damage and provide termite treatment with baits and pesticide barriers to stop the infestation in its tracks.
If you have had termites or are in a high-risk area, we recommend termite barriers to prevent them from returning and causing further damage to your Gold Coast property.
Need something to zap those mozzies away?
We all know mosquitos are annoying, and they really spoil outdoor living, but they can also be a health risk by spreading infectious diseases.
You can help reduce numbers and make breeding grounds less appealing by draining areas where stagnant water has pooled and cleaning your gutters of leaves and debris.
If you're still noticing more mozzies in your Pacific Pines property than usual, it's good to have a professional extermination treatment to locate the source. Sometimes a larvicide may be required to keep pest numbers in check so you can get back to enjoying your evenings outdoors.
Fortunately, we're only a call away. After a thorough inspection, we'll find where the mosquitos are dwelling and tailor the treatment to suit your budget and environment.