Birds are great to watch at a distance. But when they take up residence in and around your property, they cause frustrating damage and are a risk to your health. Sometimes the bird netting from Bunnings option can seem like a quick and easy fix, and netting is an effective way to keep out birds.
However, before you pick up a tape measure or head to Bunnings, there are a few things to consider about DIY installation that will impact how well your bird netting works, how good it looks and how long it lasts.
Bird netting Bunnings – not the most effective option
So, you've decided to get rid of the birds yourself. We understand the temptation! But here are some things to consider before you commit any money to your project.
Do you know what species of bird you're dealing with, and what potential problems could arise depending on the species? Different species of birds require different kinds of netting. Bigger birds require pigeon netting, while others require smaller netting. The problem is that Bunnings only has one size of bird netting, and it's not particularly well constructed.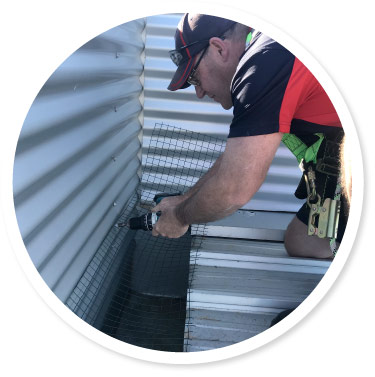 Remember the time you bought a bookcase and had to put it together yourself? And remember how much trouble you had, even with the instructions? Well, the bird netting Bunnings sells doesn't even come with instructions. If you install bird netting incorrectly, it won't keep the birds out. Birds can be crafty, and if there are any weak spots, they will find a way in. Bunnings has no warranty on their bird netting, so if it doesn't work, you're losing potentially hundreds of dollars.
When installing bird prevention netting, your number one priority is going to be to keep the birds out. But installing bird netting yourself while also keeping your property beautiful can be very tricky. If you don't really know what you're doing, you could end up with quite the eyesore.
Why not let the Jim's professionals install it for you?
Rather than attempting to put together an effective bird deterrent yourself, why not let us handle it? Jim's Termite and Pest Control Queensland have been effectively helping the people of Queensland with their bird problems for years, so we know what works.
We know that passing up on Bunnings bird netting also means passing up on a good sausage sizzle, so here are some compelling reasons why you should get the Jim's team to help you instead:
We use the best bird netting currently available. Our netting is constructed of strong UV stabilised knotted polythene, which means it'll stand up to the test of time.
Our technicians have years of experience installing bird netting and will tailor a netting solution to your particular needs.
Properly installed netting prevents the birds from accessing your property, meaning they will quickly move on to somewhere easier and safer for them.
We know that getting rid of the problem isn't your only concern. Our technicians will work with you to find the most visually pleasing netting solution for your property.
Your bird netting will be covered by Jim's Service Guarantee: if the treatment does not work, we'll come back to fix it free of charge.
So put down that hammer and leave it to the professionals – we promise it will be worth it!