Jim's are your pest control Yatala experts. Your local technician is experienced, fully trained, and insured, and you can trust the Jim's name to help you with any pest problem. We're here for you when you need us.
Simply call 131 546 and our friendly staff will arrange for our technician to contact you.
With Stanmore Park in the heart of the suburb and just a short distance to the Albert River, Yatala is a popular suburb for many people. With major amenities, infrastructure, a range of both state and private schools, and Brisbane's CBD all within easy reach, Yatala is the ideal location for singles, professionals, families, and retirees alike.
And while locals enjoy their suburb, they know that pests such as termites, possums, and other creepy crawlies all call Yatala home as well. Fortunately, if you have a pest problem in your home or business, Jim's is here to help.
Jim's Pest Control Yatala – your local pest experts
Jim's Pest Control Yatala are your reliable, local pest experts. Our local technician provides residents with fast, friendly service, and we are always sure to get effective results.
Along with our fast response times, our customers appreciate the fact we make an appointment to conduct a free inspection before commencing any work. Once we've completed our inspection, we'll advise you of the most effective treatment methods, with several options to suit different budgets.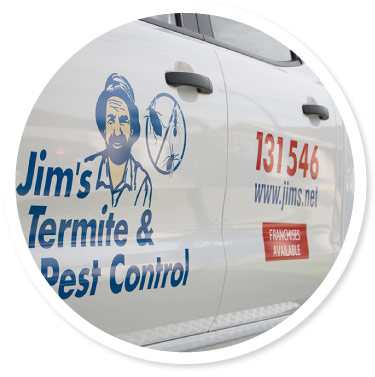 Have you had a termite inspection lately?
Termites are an ever-increasing problem: approximately 1 in 3 homes are affected by these highly destructive pests, and they cost millions in damage to Australian properties each year.
Because most termite damage isn't covered by house insurance, you don't want to let a termite attack happen to you. The surest way to mitigate the risk is with regular termite inspections to identify any issues before they become major problems.
Jim's Pest Control Yatala are experts in thorough termite inspections. We have comprehensive methods for examining all susceptible areas of your property.
At the end of an inspection we will present you with a report outlining any evidence of termites or termite damage, anywhere your property is vulnerable to infestation, and in the case of termites the most effective treatment and management options for your particular situation.
Meet your local technician
Jaison Lamb is your local Jim's Pest Control Yatala technician. Providing his customers with friendly and reliable service, Yatala residents can be assured that Jaison has the expertise to deal with any pest situation quickly and effectively. He also has comprehensive knowledge of how pests live and breed in the local climate, enabling him to effectively target and stop pests in their tracks.
Having seen the damage that a termite infestation can cause, Jaison strongly recommends that his customers have annual termite inspections.