Jim's are your pest control North Lakes experts. Our local technicians are experienced, fully trained, and insured. You can trust the Jim's name to help you with any pest problem.
We're here for you when you need us.  Simply call 131 546 and our friendly staff will arrange for our technician to contact you.
The fast-expanding area of North Lakes is enjoyed by its residents for being a convenient and family-friendly location. With a community feel, scenic waterways, and the beach close by, it's easy to see why people enjoy living here.
Unfortunately, the warm weather and budding population create the perfect breeding ground for pests. At Jim's, we're here to treat your pest problems, and prevent the unwelcome intruders from returning, so you can enjoy your North Lakes residence with peace of mind
Jim's Pest Control North Lakes – the experts you can trust
From Redcliffe to Kallangur, locals in and around the North Lakes area know they can rely on Jim's Pest Control to deal with any problem that comes their way. Our technicians are always up to date with the latest in training and equipment, so that they can deliver an effective result.
Most importantly, our pest control technicians care that their customers have a great experience, and are left satisfied with the job done.
We are always on hand when you need us. Whether you call our centre or get in touch online, our technicians are fast to get back to you.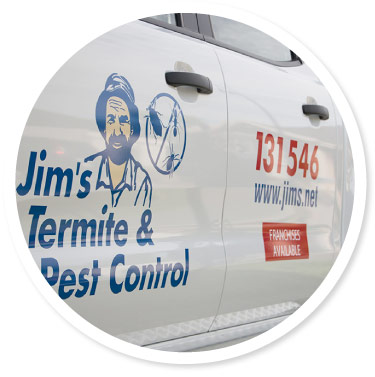 North Lakes' budding population is very attractive for rats and mice. These pests love to take refuge in your roof, walls, and venture into your home, hiding behind walls and cupboards. Rats breed very fast, and a small problem can quickly turn into an infestation if left unchecked.
Our pest control services for rats and mice include a detailed inspection and thorough treatment. Depending on your situation, we use a combination of:
Bait, set up in strategic locations. The bait is secured in stations that only rats can access, to keep pets, children and wildlife safe from poisoning.
Specially designed traps in places that bait can't be used.
Tracking powders, which stick to the rodent's coat, and they ingest when they groom themselves.
Quality job, great pest control results
Graham Horvarth is the local technician for Jim's Pest Control North Lakes. He prides himself on doing a top quality job for his pest control customers, delivering them excellent results that keep their homes free of pests.
He has a keen eye for detail to help you spot potential pest problems and take early preventative action. On one occasion, he was at a house for a general pest control job when he spotted a termite lead in a weep hole. He ended up completing a full termite inspection and external treatment. His customer was extremely grateful knowing they had saved a lot of damage, money and headaches down the track.