How much does bird proofing solar panels cost? At Jim's Termite and Pest Control, we keep our prices competitive, and the treatment typically ranges from $1000 to $3000. The cost of solar panel proofing depends on the number of panels, the pitch of your roof, and the number of stories on your home or business.
If you're having problems with birds nesting under solar panels, get us to give you a hand. Give Jim's a call on 131 546, and your local technician will be in contact shortly.
Bird proofing solar panels cost – Is it worth it?
The birds and pigeons nesting under your solar panels can cause a great deal of damage. From messing with exposed wires to restricting airflow, the birds will cause reduced function solar panel function, and in some cases the damage is irreparable.
Birds also present a health risk. Humans can contract many illnesses by coming into contact with feral birds, which include includes salmonella, ornithosis, and even bird fanciers lung. Bird mites and lice can also travel from the birds down into your roof, where they can breed and find new hosts in you or your family.
Compared to the cost of repairing/replacing solar panels and dealing with illness, bird proofing your solar panels is certainly worth the cost.
How does solar panel bird proofing work?
We use a pigeon mesh designed for solar panels, made from galvanised wire mesh coated in UV stabilised PVC.
After a thorough inspection, we give you a report and a quote that factors in the particulars of your infestation, roof pitch, number of solar panels, etc.
The birds are cleared out. This is usually done with a fast-acting poison or by safely and responsibly shooting them.
The space under your solar panels is cleaned thoroughly to get rid of any remaining pathogens or debris.
Our technicians carefully install the mesh around the sides of your solar panels.
This ensures that birds and rodents leave your solar panels alone. It also keeps out debris, making sure that your solar panels remain in good working order for many years to come.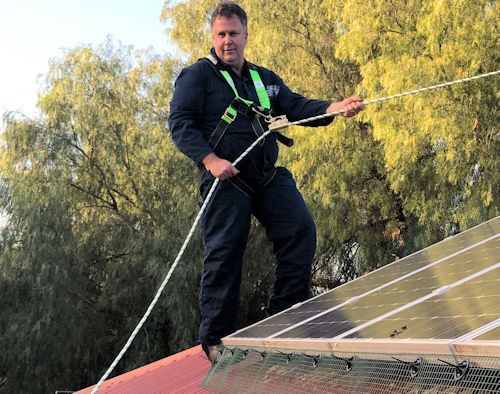 Why use Jim's Termite and Pest Control for solar panel proofing?
When you call Jim's, you're calling pest control experts with years of experience. Our technicians are fully licenced and trained in all aspects of pest control, including the installation of pigeon mesh for solar panels.
Because we're under the national Jim's umbrella, we can keep our expenses low, passing the savings on to you. All of our technicians are locals to your area, so you know that they care as much about your pest problem as you do.
Jim's Termite and Pest Control can also install bird netting and bird spikes depending on your bird problem, and as always, we work with you to tailor a treatment to your particular needs.
All our treatments are covered by Jim's Service Guarantee: if the treatment fails, we'll come back to fix it, free of charge. Don't wait for the birds nesting under your solar panels to ruin them.