Jim's are your pest control Maroochydore experts. Our local technicians are experienced, fully trained, and insured, and you can trust the Jim's name to help you with any pest problem. We're here for you when you need us.
Simply call 131 546 and our friendly staff will arrange for our technician to contact you.
Maroochydore is a peaceful, stylish area, and a growing business hub of the Sunshine Coast. From young professionals to families and retirees, we have something for everyone.
The only problem with growth is that the pests grow with us. Lucky for you, we're here to help. When pests invade your business or residence, we have the tools, techniques, and training to kick them out.
You can trust Jim's Pest Control Maroochydore
Locals in Maroochydore know to give Jim's Pest Control a call if they want to keep their home or business clean, hygienic, and pest-free. From the Maroochy River down to the scenic Sunshine Cove, we cover all of the greater Sunshine Coast region.
Locally owned: When you call Jim's Pest Control Maroochydore, you're not just getting an employer. You're getting a business owner who knows your area.
The latest training and techniques: Our technicians are up-to-date on the latest pest control and management techniques.
This all means you get the best service, backed by Jim's Service Guarantee – if the treatment doesn't work, we'll fix it free of charge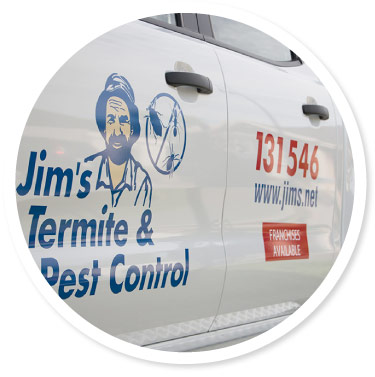 Don't let termites get you down in Maroochydore – we can treat them
Around one-third of Australian homes are currently affected by termites. However, approximately two-thirds of homes will be affected by termites over that house's lifetime. With its warm weather, Maroochydore is no exception, which is why Jim's Pest Control offers the latest in termite detection and treatment, including thermal and infrared tracking.
Cockroaches in your kitchen? We get rid of them quickly
Pests love warmth and plentiful food and water, making Maroochydore buildings the perfect habitat for the prolific German cockroach. If you're finding pepper-like droppings, exoskeletons that have been, and/or small cockroaches in rooms with no available food or water, you may have a large cockroach problem.
Luckily, we're only a call away. After a thorough inspection, we plan out a treatment solution using baiting, dusting, and/or a surface spray specially formulated for cockroach control. We also help you with preventative measures to make sure they don't get back in.
Who are your local Maroochydore pest technicians?
Dale Casford and Miguel Abesamis are your local Maroochydore pest control technicians. They've been working together for over a year now and are loved by their clients.
Miguel has been working in pest control since early 2019, and has built up broad ranging experience dealing with ants, termites, cockroaches, and rodents. He loves helping his clients and building trusted relationships with them.
Dale is always ready to give advice and help find a solution to your pest problems. The piece of advice he most commonly gives his clients is to keep foliage trimmed back away from your building, as that's what allows most insects to end up inside.