Jim's are your pest control Caboolture experts. Our local technicians are experienced, fully trained, fast and reliable, and you can trust the Jim's name to help you with any pest problem.
For prompt service, call 131 546 and speak to our friendly staff. Your local technician will contact you soon after.
Why Jim's Pest Control Caboolture?
Caboolture residents and business owners trust Jim's to keep their properties pest-free. With their knowledge of suburban pest management in Caboolture and surrounding areas, your local pest exterminator has the training and experience to quickly and efficiently remove any troublesome pests.
Some of the reasons customers rely on us:
Fast response times: We aim to return your call within the hour and book an appointment when it suits you.
We cost less: Jim's Pest Control Caboolture prices are some of the lowest in the area while still delivering the very best service.
The latest training and techniques: Your Caboolture technicians are up-to-date on the latest pest control and management techniques enabling the safe and effective removal of pests.
Jim's Service Guarantee: We know that sometimes other factors affect a pest removal, so if the treatment doesn't work the first time, we'll fix it free of charge.
Keep Caboolture termites at bay
Planning a regular termite inspection in Caboolture can save you thousands of dollars. How? Because if you notice signs of termites, unfortunately the damage has already been done. That's why we recommend annual termite inspections.
If you're building a new house, you'll also want to talk to us about preventative barriers that will stop these pesky critters from entering in the first place.
Our services include:
Termite inspections: Our comprehensive inspections detect signs before the termites settle in and become a major problem.
Termite prevention: We can create a chemical or physical barrier to keep your home from harm. We have a range of solutions to suit your situation and budget.
Termite treatment: Got termites already? We have aggressive and effective treatment solutions to stop them in their tracks – preventing further damage to your home.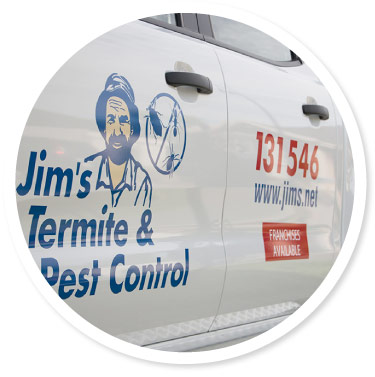 Control pests with regular inspections
Pest inspections are important for protecting your home or business from a serious outbreak. Simply book a time that suits you, and once we've inspected your property, we'll provide a comprehensive report so you can make an informed decision.
If you're considering buying a new property, Jim's can inspect the property before you hand over your hard-earned money so there's no scary surprises later. We'll also provide a quote for any recommended treatments.
At Jim's Caboolture, we know that a pest inspection now is money well spent and could save you thousands later. Book yours on 131 546.
Possums are a common problem for most households and businesses in the Caboolture area. In addition to keeping you awake, they're likely damaging your insulation, spreading waste, and even causing a fire hazard by chewing through electrical wiring.
Fortunately, possum removal is inexpensive and straightforward, but it has to be carried out by a licenced technician. We will humanely capture the possum and release off your property. We will also block up access points to your roof, making sure you get a great night's sleep.
Rats can be easily managed with Jim's
Buildings in the Caboolture area can attract rodents – especially in the cooler months – as they provide food, water, warmth, and shelter. Rats are excellent gnawers and can chew at walls, furniture, and even electrical cables, so hearing clawing and burrowing in the walls at night could be signs of a serious rat problem.
We'll conduct a thorough inspection and plan out a pest control solution using traps, baits and tracking powders. We'll also help you with preventative measures to ensure the rats don't return.
Mice can also cause significant damage by gnawing through wood and electrical cables, and spoil food by leaving droppings in food containers. They also carry diseases and parasites that can be passed on to humans. If you hear squeaking or scratching at night or notice burrows next to your building, you may have an issue.
Getting rid of the mouse in your house is simple with Jim's. We use a variety of treatments like baits, traps and tracking powders so we can find where they're hiding. We'll also advise you on prevention strategies such as removing entry points to your home and maintaining good sanitation nearby, ensuring they don't return.
If you're noticing more wasps around your property than usual, it's a good idea to have a professional pest control technician attend to locate the nest. Wasps are extremely aggressive when disturbed and their stings are painful, not to mention life-threatening for those with allergies.
You should never attempt to kill wasps or remove the nest yourself. Instead, your local Caboolture technician can exterminate wasps safely and without fuss.
How do I get rid of a bird problem?
Birds are lovely, except when they converge on your building or property in large numbers. Beyond causing damage to your property their droppings and feathers can cause contamination, create slipping hazards, and even pass on diseases to humans.
Jim's Caboolture will complete an inspection of your building and surrounding areas, and devise a solution for your feathery problem. This can include netting, spikes, audio devices and solar panels
Jim's will fix all your pest problems.
Jim's provides an extensive range of Caboolture pest control services – from flies and fleas to silverfish and spiders. We'll provide a quote and inspection before commencing treatment, so you know exactly what to expect. Each treatment is backed by warranty and the famous Jim's Guarantee – if it doesn't work, we'll fix it free of charge.
We also provide extermination and/or removal services for:
Ants
Bed bugs
Cockroaches
Fleas
Silverfish
Spiders