How much does termite treatment cost? The answer depends on the size of the infestation, and the systems and chemicals used.
Treatments for active termites in a structure range from $220 to $550 for an average Brisbane home, while management systems average around $2,500. The fastest way to find out is to get us to come and assess your property for a free, no-obligation quote.
Call us on 131 546 and a local technician will be in touch shortly. Rest assured, our pricing at Jim's Termite and Pest Control is always reasonable and suits all kinds of budgets.
Average termite treatment cost in the Brisbane area
Treatments for active termites in a building start at just over $200 for a small area, and are closer to $500 or $600 for multiple areas or a larger house.
Lower priced treatments are often localised, like a single wall. More expensive treatments deal with a larger surface area, like multiple walls, your roof, or subfloor. Prices will vary according to the degree of infestation, and also depend on the treatment used.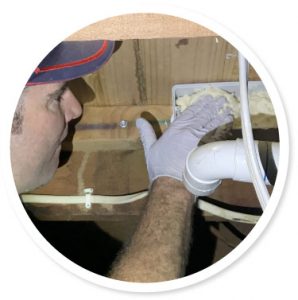 Preventative vs remedial termite treatment
eradicate the colony, and then use an ongoing management plan.
If you already have an active infestation, we will need to start with remedial treatment. This will be a system best suited to your situation and environment, but can include:
Baits specifically made for termites
Pesticidal dusts or foams injected into the termite site, which are then ingested by the termites and spread throughout the colony
Pesticide and other chemical barriers that are applied into the soil underneath and around the foundation of the building, preventing them from getting inside
Once the colony is eradicated, we need to prevent them from coming back with a termite management system. Again, this will be a solution best suited to your needs. These systems include:
Physical barriers made of metal, crushed rock, and other hard materials, that they can't chew through
Pesticide barriers, which contain a pesticide specially formulated for termites
Talk to the termite experts
Offering over 27 years of experience, our expert team deals with termites – fast. We know the right treatments and preventative measures to protect your family, home, and business from these pests and many others.