Jim's are your pest control Redcliffe experts. Your local Redcliffe technician is experienced, fully trained, and insured, and you can trust the Jim's name to help you with any pest problem as.
For fast service, call 131 546 and speak to our friendly staff. Your local technician will contact you soon after.
Why Jim's Pest Control Redcliffe?
For pest control in the Redcliffe area, locals rely on Jim's. With fast service, we can quickly and efficiently attend your home or business premises – keeping it clean, hygienic, and pest-free.
Some of the reasons customers rely on us:
Budget-friendly options: we do our best to offer a range of treatment options to suit your budget.
Fully trained: Your technician is up-to-date on the latest pest control and management techniques to exterminate pests safely and effectively.
Jim's Service Guarantee: If the treatment doesn't work, we'll fix it free of charge.
Redcliffe termite treatment made easy with Jim's
Termites damage tens of thousands of properties each year. Unfortunately Redcliffe's warm and humid climate puts your property at serious risk of an infestation. That's why, following CSIRO advice, we recommend termite inspections for Redcliffe properties at least once a year.
If you notice damaged woodwork in the house or swarms of insects outside – or it's been more than 12 months since your last termite inspection – you should contact us immediately. Upon inspection, if we discover them, we will clearly explain your options for Redcliffe termite treatment. The solution can include baits or pesticide barriers, and will be designed specifically for your home.
If you've had termites or are in a high-risk area, we recommend termite barriers to prevent them from returning and causing further damage to your property.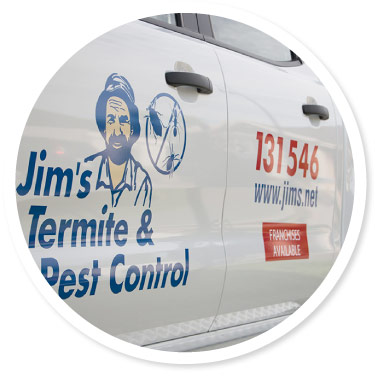 Pest inspections save you money
Your home is probably the biggest and most important asset you'll ever own, which is why regular and thorough pest inspections are essential to protect it.
Are you considering buying a new property? Jim's can assist with a pre-purchase inspection in which we will thoroughly inspect the interior, exterior, roof and sub-floor to make sure there are no unwelcome surprises down the track.
If we do find any potential issues, we will provide a comprehensive report so you can make an informed decision. We will also provide a quote for any recommended treatments.
As is often the case, a small investment in an inspection now could save you thousands later on. Simply book a time with your local pest inspection technician to give you peace of mind.
Pesky possums keeping you awake? Book our Redcliffe possum removal
In addition to keeping you awake, it's likely they're making a mess in your roof, damaging insulation, and even chewing your electrical wiring! As a protected species, it's illegal to relocate a possum without a licence, but fortunately Jim's can help.
Our Redcliffe possum removal service is humane and straightforward. We will capture the possum and relocate it away from your house. We will also identify where it was accessing your roof and block up the access point, ensuring you get a great night's sleep.
Buildings in the Redcliffe area are the perfect habitat for rodents as they provide food, water, warmth, and shelter – especially in the cooler months.
Rats, like mice, can cause significant damage by chewing electrical cables and commonly are heard clawing and burrowing in the walls. You may have a rat problem if you also notice scratching at night, greasy marks on walls, or small dark droppings.
If you're worried about rats, call your local pest control Redcliffe technician. After a thorough inspection, we'll plan out a pest control solution using traps, baits and tracking powders. We also help you with preventative measures to ensure the rats don't return.
Mice can cause significant damage by gnawing through wood and electrical cables, and spoiling food by eating into food containers and leaving droppings. They also carry diseases and parasites that can be passed to humans.
If you hear squeaking or scratching at night or notice burrows next to your building, you may have a problem.
Getting rid of the mouse in your house is simple with Jim's. We use a variety of treatments like traps, baits and tracking powders so we can find the source of the infestation. We'll also advise you on preventative measures.
These include blocking up possible entry points to your home and maintaining good cleanliness and hygiene, so that they don't return.
When you see one wasp, there will usually be a nest nearby. If you're noticing more wasps around your property than usual, it's wise to have a professional pest control technician attend to locate the nest.
It can be tempting to try and remove the nest yourself, however we strongly advise you leave it to the experts unless you want to find yourself in a swarm of angry wasps! We will remove the nest and may need to use a pesticide to keep wasp numbers in check. Either way, we'll leave your Redcliffe property safe and wasp-free.
It's challenging to know what to do with a bird problem. You can't just shoo them away! Not only can they cause property damage but their droppings and feathers can cause contamination, create slipping hazards, and even pass on diseases to humans.
Jim's Pest Control Redcliffe will complete an inspection of the building and surrounding areas, and recommend prevention and treatment options best suited to your situation. This can include spikes, netting, solar panel proofing and audio devices.
Jim's can fix all your pest problems
Jim's covers most pests in Redcliffe – from annoying ants in your pantry to worrying wasps in your garden. Your local technician will inspect the site, provide you with a quote then provide a comprehensive treatment backed by warranty.
We also provide extermination and/or removal services for:
Termites
Ants
Bed bugs
Cockroaches
Fleas
Silverfish
Spiders