Jim's are your pest control Kelvin Grove experts. Your local technician is experienced, fully trained, and insured, and you can trust the Jim's name to help you with any pest problem. We're here for you when you need us.  Simply call 131 546 and our friendly staff will arrange for our technician to contact you.
Nestled in the hills just three kilometres from the Brisbane CBD, Kelvin Grove is the ideal suburb for those who enjoy inner-city living, while still being surrounded by parks and green spaces. With an abundance of trendy cafes and restaurants to explore and outstanding educational facilities, Kelvin Grove is a great place to live for students, young professionals, families, and retirees alike.
One thing that can upset this trendy, inner-city lifestyle is pests such as cockroaches, ants, spiders, bees, and rodents. Luckily, Jim's is here to help if you find yourself with unwanted house guests.
Jim's Pest Control Kelvin Grove – where you are our priority!
Residents in and around the Kelvin Grove area know that they can trust their local Jim's technician to eliminate any pest situation quickly and effectively.
At Jim's Pest Control Kelvin Grove, we want to make the process of eliminating your pest problem as easy and stress-free as possible. Our technician will make an appointment at a time that suits you to visit your home or business and get a better understanding of your pest situation. This allows us to determine the best course of treatment and provide you with an accurate quote for the work required.
With a reputation among locals for providing honest, reliable service and outstanding attention to detail, you can have peace of mind knowing that Jim's Pest Control Kelvin Grove will eradicate your pest problem, fast.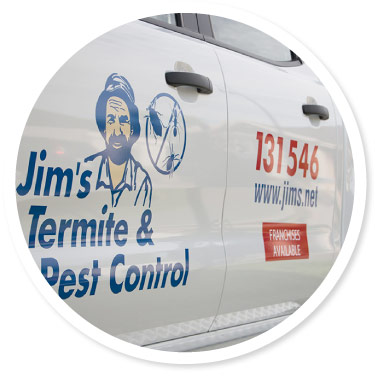 Bees – we can make them buzz off your property
Bees play a vital role in the sustainability of the environment and without them, the planet, and humans, would be in serious trouble. Which is why at Jim's Pest Control, rather than simply exterminating a colony, whenever possible we believe in bee removal and relocation to keep the bees alive.
The cost of bee and bee hive removal varies depending on where the hive is located. If it's simply hanging on a bush or tree, the removal process will be relatively easy. However, if the bees have moved into a wall in your home or business, or a tree on your property, costs for removal can escalate.
Unfortunately, not all bees can be saved, and in certain circumstances, termination is the best option.
If you find a bee colony on your property, it's always best to call in the experts. Jim's Pest Control Kelvin Grove are experts at determining whether a hive can be removed and relocated safely. And, if not, they're fully trained in terminating a colony quickly and efficiently.
Kelvin Grove's reliable pest control expert
Allan Guan is the Jim's Pest Control expert Kelvin Grove residents can rely on. Taking pride in being able to solve any pest problem quickly and effectively, Allan loves leaving his customers satisfied and pest-free.
The piece of advice that Allan gives his customers is to have an annual pest inspection by a qualified technician. This will highlight any areas of concern and preventative work can be carried out immediately; ultimately saving you time and money.