Jim's are your pest control Salisbury experts. Your local technician is experienced, fully trained, and insured, and you can trust the Jim's name to help you with any pest problem. We're here for you when you need us.
Simply call 131 546 and our friendly staff will arrange for our technician to contact you.
While Salisbury is a great place to live for people of all ages, it also attracts pests such as ants, fleas, cockroaches, termites, and rodents. Fortunately, if Salisbury residents find themselves with a pest problem in their home or business, Jim's is here to help.
Jim's Pest Control Salisbury – fast, friendly, effective pest control
When deciding on a pest control company, there are three important questions you should ask yourself:
Are they a locally owned business?
Will a pest control technician undertake an inspection of my property before they start work?
Are they a recognised brand with a reputation for providing outstanding customer service with guaranteed results?
Jim's Pest Control Salisbury is both nationally accredited and locally owned. This means they have the skills and resources of a national franchise with the care and dedication of a local business owner.
To make sure we do the job right, we will arrange a free inspection before we begin any treatment. We are also backed by the Jim's Satisfaction Guarantee – if the treatment doesn't work we will come back for free until it does.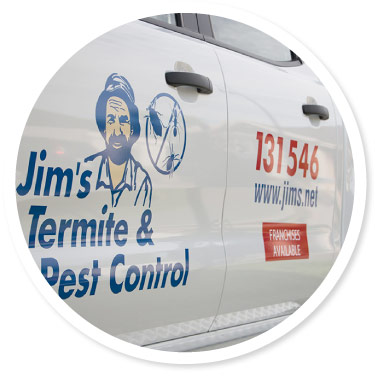 Flea treatment – a problem for both humans and pets
People are not the only ideal hosts for fleas; so are our four-legged family members. In warmer weather, fleas can multiply at an astonishing rate, which is why it's so important to break the cycle and ensure an effective flea control program is in place.
Using a variety of treatment methods, at Jim's, we'll treat multiple areas around your property both indoors and outdoors.
Using only the safest pesticides available, we also recommend using an insect growth regulator (IGR) which disrupts growth and reproduction. The IGR interrupts the life cycle of the flea.
IGRs used by Jim's Pest Control Salisbury enhance other treatment methods, and are amongst the safest products available.
The pest technician who cares
When you have a pest situation on your hands, Martin Prasad, who is your local Jim's Pest Control technician, can help.
Providing Salisbury residents with friendly and reliable service, Martin takes great satisfaction in being able to solve pest problems for his customers, fast.
If you want to ensure your home or business is protected against an infestation of potentially harmful pests, Martin is an expert at conducting thorough pest and termite inspections in Salisbury.
Having seen the damage an untreated termite infestation can cause, he knows how important it is to book these inspections in regularly.