Jim's are your pest control Fernvale experts. You can trust the Jim's name to help you with any pest problem as our local Fernvale technicians are experienced, fully trained, and insured.
For fast service, call 131 546 and speak to our friendly staff – your technician will contact you soon after.
Why trust Jim's Pest Control Fernvale?
Fernvale homes and businesses rely on Jim's to get rid of pests and keep them out. Your local technician knows the southern Brisbane area and environment well, enabling them to quickly and efficiently remove any pests that are bugging you.
This is also why our customers rely on us:
Locally owned: When you call Jim's Pest Control Fernvale, you'll speak to a business owner who knows your area inside and out and can quickly get rid of local pests.
Fully trained: Our technicians in Fernvale stay up-to-date on the latest pest control and management techniques to exterminate pests safely and effectively.
Flexible appointments: We work with you and make appointments at a time that suits you.
We solve all your pest problems
Rats in the rafters or spiders out of control? Jim's Pest Control Fernvale can help. We'll inspect the site, provide an approximate quote and provide a comprehensive treatment backed by warranty.
We provide extermination and/or removal services for:
Termites
Ants
Bed bugs
Birds
Cockroaches
Fleas
Possums
Rats and mice
Silverfish
Spiders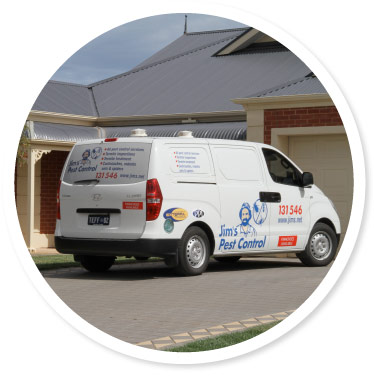 Termite control that won't leave you out of pocket
Planning a regular termite inspection can save you thousands of dollars. Why? Because if you notice signs of termites, unfortunately the damage has already been done.
If you're building a new house, you'll also want to talk to us about preventative barriers that will stop these pesky critters from entering in the first place.
Our services include:
Termite inspections: It's essential to get an inspection at least once a year. Our comprehensive inspections detect any signs before the termites settle in and become a major problem. That way we can get rid of them before they become a major problem.
Termite prevention: We can create a chemical or physical barrier to keep your home from harm. We have a range of solutions to suit your situation and budget.
Termite treatment: If the termites are already there, we have aggressive and effective treatment solutions to stop them in their tracks – preventing further damage to your home.
Are birds making themselves unwelcome?
An unwanted flock of birds can quickly grow into a major problem. Their droppings and feathers can cause contamination, property damage, create slipping hazards, and even pass on diseases to humans.
You might already know you have a bird problem, but it's hard to know what to do. You can't just shoo them away!
Fortunately, we're only a phone call away. After an inspection of the building and surrounding areas, we'll be able to create a simple plan, including methods of discouraging the birds such as spikes and audio devices. We'll also help you with preventative measures to ensure they don't get back in.