Jim's are your pest control Marsden experts. Our local technicians are experienced, fully trained, and insured, and you can trust the Jim's name to help you with any pest problem because.
For fast service, call 131 546 and speak to our friendly staff. Your local technician will contact you directly.
Why Jim's Pest Control Marsden?
Marsden residents and businesses owners trust Jim's to keep their properties pest-free. With their knowledge of the Gold Coast area, your local pest exterminator has the training and experience to quickly and efficiently remove any troublesome pests.
Some of the reasons customers rely on us:
Fast response times: We aim to return your call within the hour, and book an appointment for shortly after.
The latest training and techniques: Your Marsden exterminator is kept updated on the latest pest control and management techniques, enabling them to safely and effectively protect your home or business.
Jim's Service Guarantee: We know that sometimes other factors affect a pest removal, so if the treatment doesn't work the first time, we'll fix it free of charge.
Pests giving you a headache?
Jim's covers everything from the birds in the building to the smallest bug in your bed. Jim's Pest Control Marsden will always provide an approximate quote, inspect the site, and provide a comprehensive treatment backed by warranty.
We provide extermination and/or removal services for:
Termites
Ants
Bed bugs
Birds
Cockroaches
Fleas
Possums
Rats and mice
Silverfish
Spiders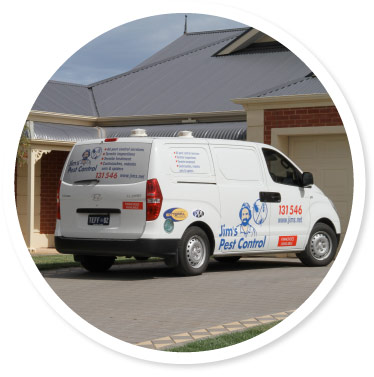 Termites – No home is safe unless protected
Termites are attracted to all homes and structures, no matter the age of your property. It's also little known that your home insurance will rarely cover the damage done to the house, so a termite infestation could cause serious damage to both your home and wallet.
That's why on advice of CSIRO, we recommend an annual termite inspection.. The warm, humid climate of the Gold Coast region puts your home at especially high risk, so we offer the latest technology in termite detection to get onto them fast.
Our services include:
Termite inspections: When you notice signs of termites, the damage has already been done. That's why it's important to get preventative inspections at least once a year. Our comprehensive inspections will detect any signs before termites become a major problem.
Termite prevention: We offer pesticide and physical barriers to protect your home from harm. We have a range of solutions to suit your situation and budget, and will advise on the best type of termite barrier for you.
Termite treatment: Got termites? We have aggressive and effective treatment solutions in various forms to get on top of the termites and prevent further damage to your home.
Cockroaches giving you the creeps? We get rid of them quickly.
You may have heard that saying – if you see one cockroach, there's plenty more you don't! It's particularly true in the Gold Coast area, where these pests love the warmth and plentiful food and water.
If you find pepper-like droppings, exoskeletons, or small cockroaches wandering in rooms with no food or water present, you may have a large cockroach problem.
Fortunately, we're only a call away, and we know what to do. A thorough inspection will reveal the extent of the problem. We'll then plan out a treatment solution using various methods such as baiting, dusting, or a surface spray specially formulated for cockroach control.
We can also help you with preventative measures to ensure the little critters don't creep back in.