Jim's are your pest control Noosa experts. Our local technicians are experienced, fully trained, and insured, and you can trust the Jim's name to help you with any pest problem. We're here for you when you need us.
Simply call 131 546 and our friendly staff will arrange for our technician to contact you.
Noosa is an area for lovers of nature, surf, and the finer things in life. Adored by families, professionals and retirees alike, we're a town that attracts many a tourist too.
The only issue with living in this warm, holiday-like location is the pests who want to share it with you, but luckily we're here to help. When pests invade your business or residence, we'll come to your rescue and kick them out.
Why trust Jim's Pest Control Noosa?
Locals throughout Noosa count on Jim's Pest Control to keep their homes safe and hygienic and their businesses pest-free. From Pomona to Peregian Beach, we cover the whole of Noosa and the greater Sunshine Coast region to help you with any pest problem.
Just some of the reasons our customers choose Jim's Pest Control Noosa:
Fast response: Along with our call centre, we offer 24-hour online enquiries. Your local technician will swiftly get in touch, usually within the hour
Effective control techniques: Our Noosa technicians are up to date on the latest techniques in pest control and pest management, ensuring you always get the best service
Guaranteed results: Every service comes with the Jim's Satisfaction Guarantee – if the treatment doesn't work, we'll come back and fix it free of charge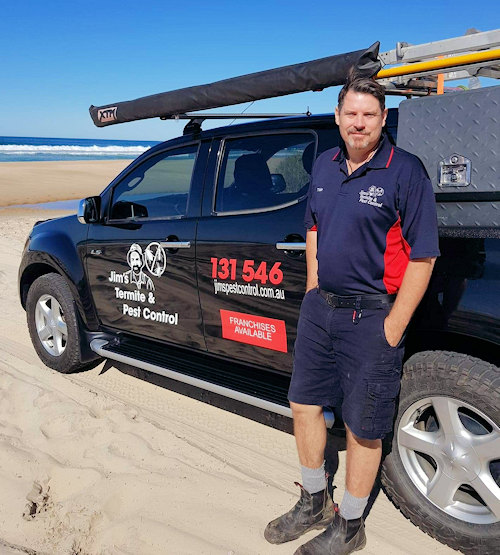 Preventative, control and emergency services
Want to prevent termites? Want to ensure birds don't take up residence in your gutters, or need to keep flies and cockroaches out of your business? For our preventative and control services, we will come out for free to inspect your property to give you a quote. However, when you have a pest emergency on your hands, we turn up ready to get the job done fast.
Rats in your roof? We'll get rid of them fast
Many people think that if you hear sounds coming from your roof, you've got possums or birds. But a lot of the time, when we're called about possums in the roof, we end up finding rats. They love the warm climates in Noosa, and it's not unusual to find they have invaded your home.
Luckily, we're experts with all types of rat problems. After a thorough inspection, we plan out a treatment solution using tracking, baiting, and/or trapping. We also help you with preventative measures, to make sure they don't come back.
Meet your local Noosa pest technician
Dale Casford is your local Jim's Pest Control Noosa technician. Before becoming an expert on pest control, Dale spent 20 years as a builder, so he has extensive knowledge on building structures and termite inspections. He loves the fact that he is always meeting new people and finding new solutions to pest problems. For him, the best thing is seeing the relief on his clients' faces when he gets rid of their pests.