Jim's are your pest control Nambour experts. Our local technicians are experienced, fully trained, and insured, and you can trust the Jim's name to help you with any pest problem. We're here for you when you need us.
Simply call 131 546 and our friendly staff will arrange for our technician to contact you.
Nambour is a friendly town, with plenty of parks, and only a short drive to anything you could ever need. It's a wonderful place for families, professionals and retirees to enjoy.
Of course, no matter where we live or work, wherever there are people there will be problems with pests. When you're dealing with any type of pest, whether its termites in your walls or possums in your roof, give us a call straight away. We have the knowledge, the training, and the tools to make your home or business pest-free.
Jim's Pest Control Nambour – your local experts
As Sunshine Coast locals, we care about pest problems as much as you do. We cover Nambour and the entire Sunshine Coast region.
Some reasons we're the preferred provider for Nambour pest control:
Because we're in the Jim's family of services, our expenses are low, which means we pass the savings on to you.
Being under the Jim's umbrella also means that we have the latest training, tools, and techniques. This means you get state-of-the-art service for less.
This all means you get the best service, backed by Jim's Service Guarantee – if the treatment doesn't work, we'll fix it free of charge.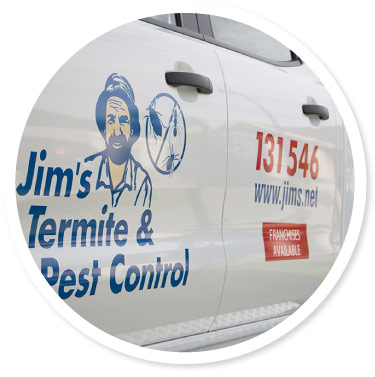 Birds causing you problems? We'll deal with them
Birds in your home or business are a nuisance and a hazard. They can contaminate areas with their feathers and droppings which is especially a problem in food-production facilities. More generally, they carry fleas and mites, which live in their nests. When the birds leave their nest, the mites come looking for a new meal, namely you. Their bites are irritating and painful, and can potentially spread disease.
That's where we come in. After a thorough inspection, we will offer a range of solutions tailored to your specific bird problem. These include bird-proofing spikes or even non-lethal shock systems, which are designed to discourage birds without harming them. If you've previously had birds, once you get us you can rest easy knowing that a professional program has been implemented to keep your property safe for residents or employees.
Get to know your local Nambour technicians – Dale and Miguel
When Dale Casford started training as a pest control technician, he already had 20 years of experience in construction. He saw first-hand what termites could do to the structure of a house, and he knows better than most how to stop them.
Miguel Abesamis loves helping clients from all walks of life and giving good follow-up advice to help them stay free of pests. The piece of advice gives most often is to get annual inspections to make sure pest problems are detected early, before they get out of control.