Jim's are your pest control Moorooka experts. Your local technician is experienced, fully trained, and insured, and you can trust the Jim's name to help you with any pest problem. We're here for you when you need us.
Simply call 131 546 and our friendly staff will arrange for our technician to contact you.
Moorooka is the ideal location for people wanting a relaxed way of life, while still just a short distance to the Brisbane CBD. For nature lovers, there's walking trails through Oxley Common, or if it's a café culture you're seeking, Graceville and Sherwood are close by.
With major amenities and transport links all within easy reach, Moorooka is the perfect choice for singles, professionals, families, and retirees alike. Pests such as ants, cockroaches, termites, and rodents all enjoy the Moorooka lifestyle, and local residents know that an invasion of creepy crawlies can severely disrupt their day-to-day lives.
Should the worst happen, and you find yourself with a pest problem in your home or business, your local Jim's technician can help.
Jim's Pest Control Moorooka – outstanding service and fast, effective results
Whether it's the inconvenience of a pest invasion in your home or business, or you want to reduce your risk of termite damage, Jim's Pest Control Moorooka can help.
Every Jim's Pest Control technician is a small business owner, and so they genuinely care about solving pest problems for their customers. Which is why, for many Moorooka residents, as soon as a pest appears, Jim's is the first number they call.
When you do call, we will make an appointment to inspect your property at a time that suits you. This will allow us to assess the problem and determine the most effective treatment method to solve your pest problem.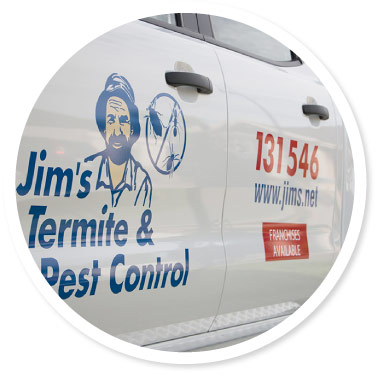 Cockroach Control? Cockroaches are our speciality
Cockroaches tend to inhabit the dark, dusty crevices of your home or business, and only make themselves known when looking for food. Unfortunately, if you see a cockroach in an open area of your home or business, it's likely you already have an infestation. In fact, it's said that for every cockroach you see, there are another ten out of sight.At Jim's, we have a guaranteed cockroach control program to ensure the quick and effective removal of these tenacious little pests from your home or business. It includes:

A thorough inspection of your property
Safely baiting the affected areas
Dusting the roof void, sub-floor, and wall cavities
Spraying the surfaces of your property's perimeter
Martin Prasad is your local Jim's Pest Control technician for Moorooka and the surrounding area. With access to the latest pest control techniques and equipment, locals know that Martin's knowledge and experience means he can deal with any pest situation.
Martin gets his greatest job satisfaction by providing outstanding service to his customers and solving their pest problems. So you can have peace of mind that he'll make the process of removing pests fast, stress-free, and effective.
An advocate for regular pest and termite inspections, Martin knows that a small investment in a regular inspection now could ultimately save his customers a whole lot of time and money in the future.