Jim's are your pest control Aspley West experts. Our local technicians are experienced, fully trained, and insured. You can trust the Jim's name to help you with any pest problem.
We're here for you when you need us.  Simply call 131 546 and our friendly staff will arrange for our technician to contact you.
Aspley is a great place to live for families, professionals and retirees alike. Our appealing area combines liveability and friendly communities with the convenience of being a short commute from the city, airport and major shopping centres. There aren't many places in Brisbane that can boast that!
The one thing that can get in the way of an easy and convenient lifestyle is pests invading your home or business. Luckily, we're here to help. Whether it's ants building nests on your lawn, possums in your roof, or termites in your walls, we've got the tools, techniques and training to keep your residence pest-free.
Jim's Pest Control Aspley West – service you can trust
From Carseldine to Geebung, locals in and around the Aspley area know they can count on Jim's Pest Control. Along with our call centre, we offer 24-hour online enquiries, and your local technician will be fast to get in touch.
For preventative or maintenance work, our technicians like to visit the site first, to get a good understanding of the issue and quote you accurately. However, when you have a pest emergency on your hands, they turn up ready to get the job done fast.
Our Aspley technicians are constantly developing their knowledge and staying up to date on the best techniques in pest control and management, to make sure we are always giving you highly effective service.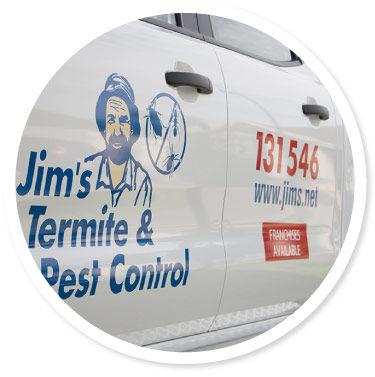 Ant problems? They're our specialty
Any Aspley local with a backyard knows the frustration of funnel ants. Their unsightly nests have ruined many a lawn, and people are forced to weave a maze across their own yard to avoid stepping in them. Not to mention the ants themselves, who like to infest your home during hot or wet weather.
At Jim's Pest Control Aspley, we are very experienced at controlling and eradicating all types of ants. Our inspection and thorough treatment plan will remove them from your property very quickly. We use targeted treatments that only affect the ants, and not other insects or plants around them.
The expert who cares as much as you do
Jeremy Bryce is the trusted technician for Jim's Pest Control in the Aspley West area. As a small business owner, Jeremy knows just how disruptive pests can be to both businesses and homes. So when you have a pest problem, Jeremy wants to fix it fast and fix it well, so you can quickly get back to business or your day-to-day life.
Jeremy loves the fact that with Jim's, he has access to the best possible training and equipment, so he can treat Aspley homes with the confidence that he is producing a great result.