Jim's are your pest control Beaudesert experts. Our local technicians are experienced, fully trained, and insured, and you can trust the Jim's name to help you with any pest problem.
For fast service, call 131 546 and speak to our friendly staff – your technician will contact you directly.
Why Jim's Pest Control Beaudesert? We get the job done right!
The only thing worse than a pest in your Beaudesert home or business is a pest exterminator who doesn't do the job properly. That's why locals use Jim's – they can trust us to get rid of pests when we say we will.
Your Beaudesert pest control technician is highly trained across all creepy crawlies, rodents, possums and birds to keep your property safe, hygienic and healthy.
However this isn't the only reason customers rely on us:
Licenced, police checked and insured: We make sure all our Beaudesert pest technicians complete regular police checks and have the right license and insurances needed to perform your pest removal promptly.
Flexible appointment times: We know you're busy, so make times that suit your schedule
Famous Jim's Service Guarantee: If the treatment doesn't work, we'll fix it free of charge.
Pest problems giving you nightmares?
If you've seen a cockroach in your kitchen or spiders in your stairwell, call Jim's Pest Control Beaudesert to help. We cover everything from creepy crawlies in your pantry to pesky possums on your roof.
We'll always provide an approximate quote, inspect the site, and provide a comprehensive treatment backed by a warranty.
We provide extermination and/or removal services for:
Termites
Ants
Bed bugs
Birds
Cockroaches
Fleas
Possums
Rats and mice
Silverfish
Spiders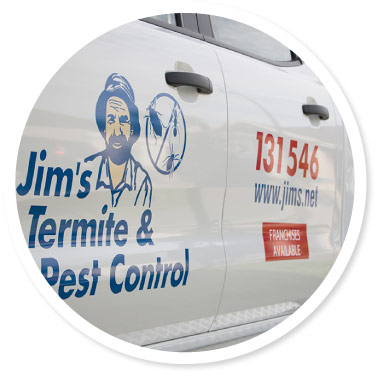 It's easy to keep on top of termites with Jim's
At Jim's Pest Control Beaudesert we recommend a proactive approach to protect your property from termites, because they are much more common and destructive than you might think.
Also known as white ants, these critters can cause hundreds of thousands of dollars worth of damage to your home, and it's rarely covered by your insurance.
As CSIRO advises, we recommend inspections at least once a year to catch an infestation before it causes extensive damage. We use specialised technology to termites that you can't see with your eyes.
Our termite treatment involves aggressive and effective solutions to get on top of the termites fast and prevent further damage to your home. Once the treatment is complete, we usually apply prevention techniques such as chemical or physical barriers – deterring the termites from returning and keeping your home protected.
Inspections are simple to book, and nowhere near as expensive as if you wait for the termites to take control. Call 131 546 to book yours today.
Are fleas making you itchy?
You don't need to have a dog or cat to attract fleas – but it does increase your changes of harbouring them! Adults fleas are parasites and feed on you for your blood, so you may notice itchy or swollen bites, particularly on your legs.
Fleas multiply in warmer weather, so an infestation can get out of control quickly in the Brisbane area, and you'll want to contact us to break the cycle before it gets out of hand.
After a thorough inspection, we can often treat your property immediately. We use safe pesticides and formulations to interrupt the flea's life cycle and put a stop to the problem. Simple preventative methods like thorough vacuuming and washing bedding, as well as a flea bath for your pooch will also help prevent the fleas from returning.