In their lifetime, two-thirds of Australian homes will experience a termite infestation. Termites – otherwise known as white ants – eat your home from the inside, and can cause hundreds of thousands of dollars worth of damage before you know they are there. If you're concerned about a potential termite infestation, it's worth considering preventing them with a termite barrier for existing homes.
Physical termite barriers needs to be installed before building your property, but chemical, which create a termite-free perimeter around a house, can be installed in existing homes. Jim's Termite and Pest Control Queensland can come out to advise you on the right type of chemical termite barrier for your home and provide you with a no-obligation quote. Simply call 131 546 and your local technician will get back to you shortly.
What sort of termite barrier do you need?
Termites enter our homes through tiny cracks and crevices in the walls and foundation. They can tunnel quite far, sometimes over 50 metres from their nest, before feeding on materials rich in cellulose including timber and drywall. Compared to the damage that termites do in your home, a termite barrier system is a relatively investment for the peace of mind that your property is safe from attack.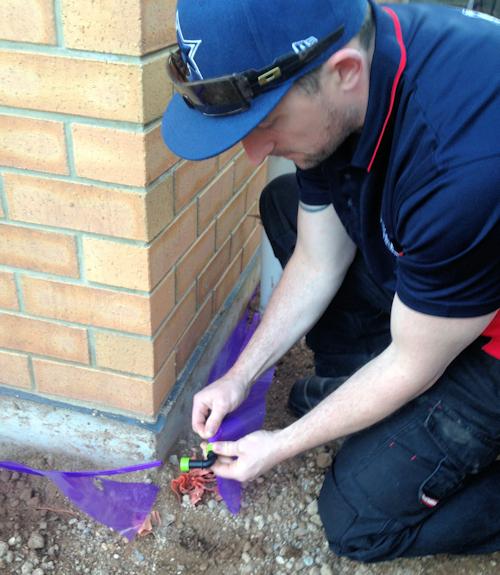 How does it work?
There are a few chemical termite barrier products that our pest control experts at Jim's recommend. They all work differently and are used for different situations.
Termidor keeps termites away by killing them before they can get to your home. Many traditional termiticides can be detected by termites so they simply avoid them, but termites can't detect Termidor. Termidor kills by both contact and ingestion, so after coming into contact with the chemical, termites pass on the effect to the rest of the colony.
Among the most widely used termiticides, Biflex protects over 1 million Australian homes. Biflex is a repellent termite barrier, meaning that it both discourages and kills the termites. It is insoluble in water, meaning that it's safe from rain and watering. It binds tightly to soil, providing protection from termites for around 10 years. As the active ingredient is modelled on chemicals found in daisies, it's safe for your pets and the environment.
Our pest control experts also recommend some baiting products. Sentricon Always Active attracts termites away from your home. It kills the termites not with poisons, but by interrupting the shedding cycle of the termites. This means that rather than dying on the spot and acting as a warning to other termites, they feed the entire colony on the bait, killing the queen in the process.
Jim's Termite and Pest Control – Your local termite barrier experts
When you use Jim's to install your termite barrier for existing homes, you're trusting a service with decades of experience. Our technicians are trained in the latest termite control techniques, so that you are getting the best possible protection for your home. As always, all of our treatments are covered by Jim's Service Guarantee: If the treatment doesn't work, we come back to fix it at no extra cost.