When it comes to choosing the right pest control company for your property, like any other service you engage in, you'll need to do some homework. With the high number of termite and pest control companies in South East Queensland, it can be a daunting task.
Here's a simple check-list to help you make the right choice:
Tips for Selecting the Best Pest Control Company Licensing & Certification
This is vital! Unfortunately, there are some home pest control businesses out there that are operating illegally without the required licences. Ensure they are fully licenced, and don't hesitate to ask for licence details if you feel they may be unprofessional or unqualified
Tips for Selecting the Best Pest Control Company Treatment Documentation
On completion of any pest control service, your technician should supply a report including: pests being treated, chemicals/products used, where they've been applied, and even how much was used. Not only does this report serve as a summary of the service, it also typically includes payment, warranty and renewal details.
Tips for Selecting the Best Pest Control Company Customer Service
Good customer service instils trust and confidence. If a pest control company is difficult to contact or seems unprofessional – warning! You should feel as though the technician has tailored their suggestion to your needs, answered any questions and given you all the information required to understand what's being carried out.
Tips for Selecting the Best Pest Control Company Customer Service
A company renowned for providing quality termite and pest control services is the right choice for you. Check out their website or social media pages for customer reviews and an insight into the history of the company. If they don't have an online presence, it's likely there's a reason!
Tips for Selecting the Best Pest Control Company The Quoting Process
As price is a major factor for many homeowners, it's important to compare quotes. Unfortunately, some pest and termite control businesses may overcharge while using diluted products or inferior practises. This is even more common for those prices that seem 'too good to be true'. In such a competitive industry, many companies may quote incredibly low, then will surprise you on site with extra charges. A legitimate pest control company will only use quality, environmentally safe products and the latest technology, and will not waiver on their price without discussing any findings with you first.
Tips for Selecting the Best Pest Control Company Safety
The termite and pest control company you choose should thoroughly explain the treatment options available to you, including the effectiveness of the chemicals they plan to use. A qualified technician will always advise if you, your children or your pets will be required to leave the property for a certain time. If they seem nonchalant about safety or uneducated about their products – go elsewhere.
Tips for Selecting the Best Pest Control Company Insurance
This is particularly important when it comes to termite control. As homeowners' insurance doesn't always cover termite treatments or repairs, make sure you choose a reliable company who are insured themselves, and provide educated options on the best termite management plan for your home. Many suppliers also offer a warranty on their products, so make sure you ask the technician about this.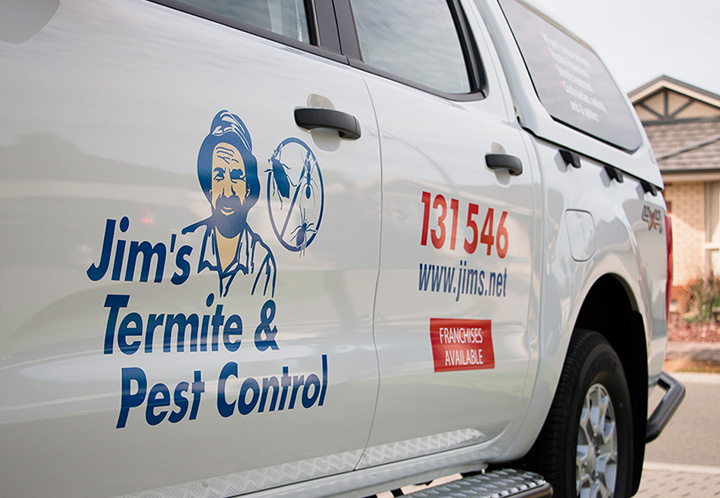 When it comes to choosing a Professional Termite & Pest Control provider, you can't go past Jim's – the brand you can trust! Coupled with years of experience and expertise, our licensed technicians are highly qualified and comprehensively insured. Click here to view our services.