Ipswich's many parks and Queenslander-style homes means that you might find possums taking up residence in your roof when cooler weather arrives.
Call our team 131 546 for Ipswich possum removal – our expert techs will help you quickly get rid of these unwanted tenants and prevent new ones from moving in.
Possum removal Ipswich – why is it important?
These native marsupials can cause lots of issues in your home. These include:
Noise: They are noisy and nocturnal, so they will keep you awake at night.
Damages: They can damage ceiling insulation by using it for nests, they can chew electrical wiring, and they can cause structural damage such as making roof holes bigger.
Diseases: They can carry mites, ticks, parasites and bacterial infections onto humans, and create hygiene issues by filling your roof with urine and droppings.
Removal and prevention technique
Our possum removal service is efficient yet humane, so you can know you're getting fast service without any cruelty.
Entry point: Our techs find the entry point for the possum in your roof, and place a cage trap over it.
Wait: We wait 24 hours to make sure that all animals get captured. They are kept in safe conditions in a dark, quiet place – we do not bait or restrain them.
Possum proofing: To prevent them from coming back, we 'possum proof' your area and restore your building back to its original condition. This involves sealing the roof's entry point, and sometimes splashing disinfectant or another scent on the area to mask the scent. In serious cases, a roofer might need to fix the gaps.
Release: Once all entries are sealed, we release the possum within 25 metres of where it was captured as required by law. However, when the territorial critter tries to return to its nest, our seals will prevent it from moving back in. It will then move on to find a new home, and no new animals can get inside.
The only way to prevent these creatures from getting into your roof is to make sure there are no entry points to your property. Keep them out by doing the following:
Entry points: Make sure your house roof and eves are well maintained. Any holes the size of a tennis ball are big enough for possums to fit inside.
Landscaping: Keep overhanging branches trimmed back from your roof.
Call us: If they've taken up residence in your attic, professional removal is necessary. Call our team who can help move them out.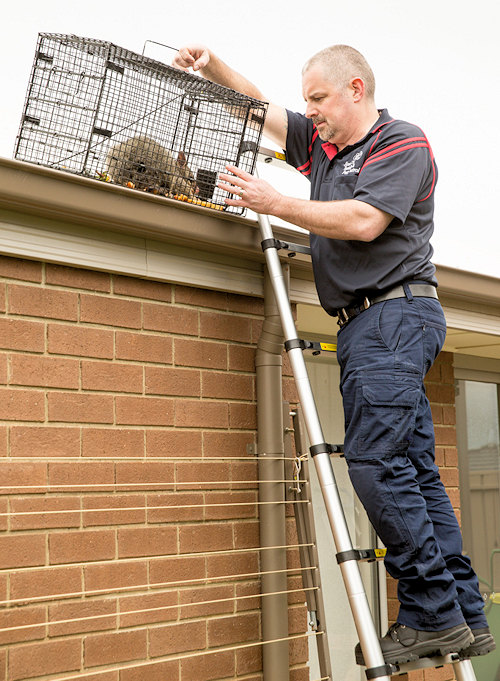 Possums are part of the urban environment, but they don't have to live under your roof. Call Jim's on 131 546 and our team will clear them out safely.  
Our Ipswich experts at Jim's Pest Control are fully licensed and trained in possum removal, and use eco-friendly treatments. Removal and proper prevention is all part of the Jim's quality service, which is always backed by the Jim's Guarantee: if it's not right the first time, we'll come back until it is.